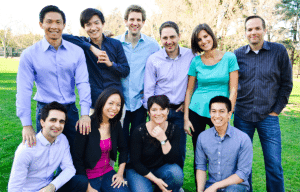 Upstart, started by reformed Googlers, is a crowdfunding site that crowdfunds you with a slice of economic freedom. In their own words,
Upstart aims to help you with the most important part of pursuing your dreams – taking the first step. It may be as simple as applying for an internship, relocating to another city, or spending a few months in a garage working on your idea. Your Upstart backers will provide you with a modest amount of capital, combined with the support and guidance you'll need. In return, you share a small portion of your income for 10 years. By matching you with the right backers and by providing just a slice of economic freedom – where repayment is based on your future success – we help you get started on the right path.

Whether you're an engineer, artist, financial wizard, or entrepreneur – we believe the most important startup is you.
Today, April 22nd, just happens to be Upstarts birthday and to share in the celebration Upstart announced some good news on their blog:
We've closed a $5.9M Series A funding round (in addition to $1.75M raised in April 2012)
New Upstart investors include Founder's Fund, Khosla Ventures, Collaborative Fund, Eric Schmidt, Marc Benioff, and Scott Banister
Since launching in November, more than $1M in funding offers have been made to upstarts.
We've published more than 80 upstart and 135 backer profiles to our site. 555 unique funding offers have been made to date.
They have also announced two new advisors:
Bob Kerrey, Former Governor of Nebraska, US Senator, President of The New School, US Navy Seal, and Executive Chairman of the Minerva Institute
Jessica Jackley, co-founder of Kiva.org and founder & CEO of ProFounder
So Happy Birthday to the entire team at Upstart. Let's hope year two is even better.

Sponsored Links by DQ Promote