Zach Braff has raised more than $2 million on Kickstarter. Veronica Mars netted over $5.7 million. These two campaigns have gone a long way in sparking a debate on whether campaigns such as these align with the core mission of rewards-based crowdfunding, and in particular the perceived core mission of Kickstarter.
Braff has come under fire because of public perception of his financial situation, which he insists isn't fair.
"People seem to think I have Oprah Winfrey money," Braff told the LA Times, defending his decision to solicit donations toward the production of his new movie, "Wish I Was Here." "I've done well in my career, but I am not sitting on $22 million" — a sum that's been circulating online as an estimate of Braff's net worth.DailyFinance.com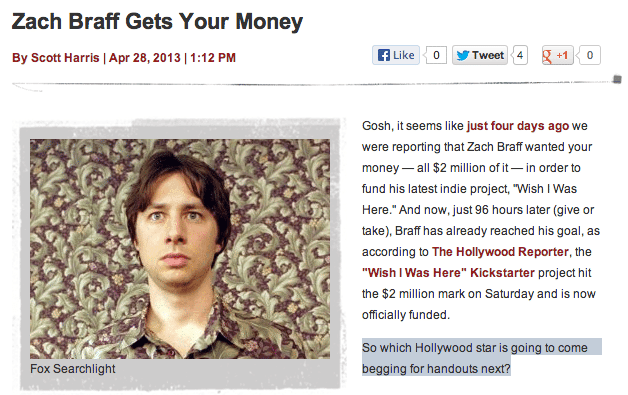 Braff admits that the Veronica Mars project spurred him on to try the Kickstarter approach to raising financing for a film. Anecdotally, Veronica Mars director Rob Thomas probably wasn't subject to the type of criticism Braff has seen because he is perceived to be less well-off. Veronica Mars was largely hailed as a more democratic approach to entertainment, and thrust Kickstarter (and crowdfunding in general with it) to what-iTunes-did-for-bands status in the film world.
Still, one comment in particular piqued my interest and made me realize something about this entire debate.
Kickstarter is proving incredibly effective in its guise as the internet's cocky little panhandler. Around 44% of projects on the site have reached their funding goals since it was launched in April 2009. More than $500m has been pledged, funding more than 35,000 creative projects.

But a dollar for Braff is a dollar away from an unknown, and so reaction to this particular fundraiser has been mixed. What irks is that the man on the street will not be an investor in the project, merely a donor. So if the movie becomes a sleeper hit like The Blair Witch Project, which was made for $60,000 but grossed $250m worldwide, no donor will see any kind of return. The producers get to build another kidney-shaped swimming pool, but you'll be left with your pdf of the screenplay ($10), frameable art prints ($60) or a fleeting moment as an extra ($2,500). There's a lot of talk about the spirit of crowdfunding, and how it's one of the few ways that a truly independent artist can fund their project. But if the likes of Zach Braff can hijack the process, then surely the system is compromised? And what's to stop the producers of the next Iron Man movie asking for a couple of million?Guardian.co.uk
If Title III in particular were in place and investment crowdfunding was legal, would there be any reason to have this discussion? I've often said that I can't wait for it to be legal because it will end the less constructive banter, and this is a great example of how. Zach Braff's project is the poster child for what investment crowdfunding can be in it's highest-profile form.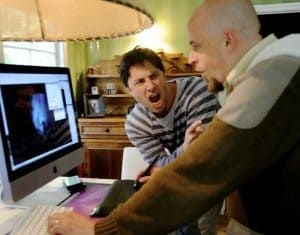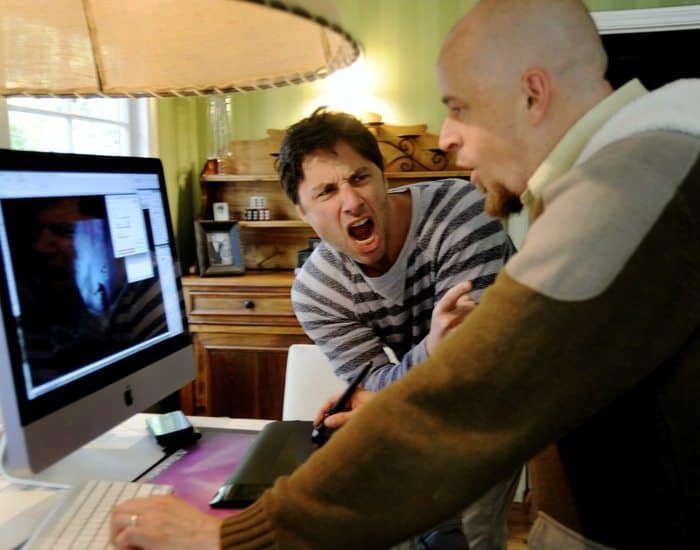 The mainstream media and even some regulators seem to attribute Title III's future to startups, which are traditionally high-risk investments that regularly result in a 100% loss. Crowdfunding's architects and chief evangelists reject this notion if you spend any time talking to them. For them, investment crowdfunding is about the mom-and-pop shop down the street, which is generally far less likely to result in a total loss than your typical Internet startup.
To put it another way, the crowd is expected to invest in businesses they know and believe in. It is very much in the spirit of Chris Camillo's experience which later became the premise for the book Laughing at Wall Street.
Now, if you've been kicking and screaming for this entire article waiting for me to realize that the $2 million goal of this campaign puts it over the $1 million maximum for a crowdfund investing campaign, I'm aware. I'm not convinced, however, that it makes any functional sense. Trust me, the maximum is totally arbitrary, a number plucked from the sky in the name of investor protection. It can also be changed.
Why shouldn't Zach Braff be able to raise $5 million from thousands of investors, make the movie and let the crowd share in the wealth (or failure)? On the surface it seems a great opportunity both for investment and involvement, and a further look into the industry for laymen like myself may corroborate that gut feeling… or it may not. Empower me to make that decision.
What will Title III do for Kickstarter? It may provide the answer to this criticism. It may provide separation between true investment opportunities and purely artistic endeavors. That separation is nonexistent now, and the crowd suffers for it.