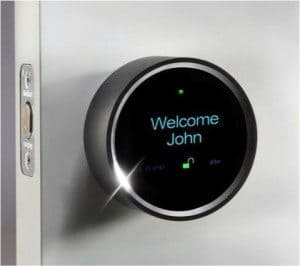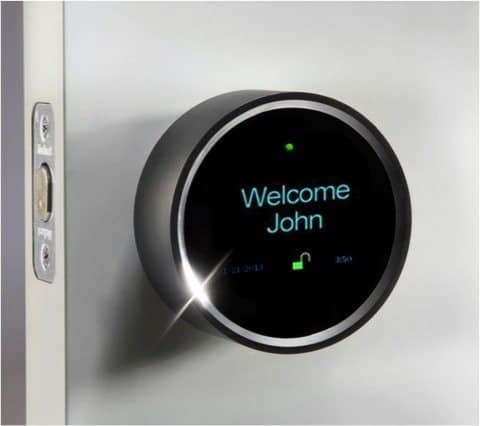 Crowdfunding has already helped to bring the "Internet of Things" to our doorsteps. Remember the Lockitron? The wifi-enabled smart lock for the home raised over $2 million.
The Goji Smart Lock's featureset suggests it is the spiritual (and technological) successor to the Lockitron. The campaign page says that the device mounts on the outside of any door and allows the owner to lock and unlock the door manually from anywhere in the world. It will also be equipped with a feature that will detect the homeowner approaching and unlock the door automatically similar to some modern automobiles. Anyone with the app and the proper permissions will be able to interact with the lock from their phone.
The benefit of this digital permissioning is that the homeowner will be able to issue temporary keys to guests and visitors. This is particularly handy for people who offer rooms on sites like Airbnb. The keys can be sent via email to any smartphone user and remotely destroyed when it's time to revoke access.
What really differentiates this product is the ability to also snap a picture of who is at the door. The Lockitron was an inward-facing device. The Smart Lock is mounted to the outside of the house, which turns it into a sort of security device. The device can be set up to sent picture alerts automatically when someone unlocks the device, keeping the owner informed of who is coming and going.
The Goji team says that 24/7 support will be offered to those that buy the device just in case keys are lost. Goji support staffers will be able to unlock doors remotely, a feature that is either nice peace of mind or a privacy and security concern… or both.
Taken at face value, the team behind the Goji seems capable of delivery. The crowd seems to feel confident about the project, too. It's already fully funded with plenty of time left in the campaign. Backers will have to fork out $235 to stake a claim to one of the devices. Two can be reserved at a discounted $435 for those wanting a unit for both a front and back door.
Have a crowdfunding offering you'd like to share? Submit an offering for consideration using our Submit a Tip form and we may share it on our site!