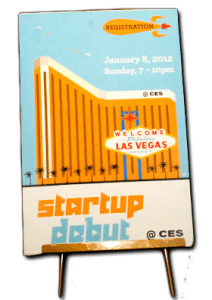 Will Demo More Than 100 Startups at Fifth Annual Media Showcase Event, Second Year for the Crowdfunding Pavillion.
Startup Debut, the events division of social media marketing firm SocialRadius, will hold its largest-ever media showcase, Startup Debut at the forthcoming Consumer Electronics Show ( CES ) in January of next year.
The event is limited to exhibitors and to registered media and bloggers at the International Consumer Electronics Show.  This will be the second year that Startup Debut has held a crowdfunding pavilion, and its first year to hold a dedicated pavilion for displaying innovation in Bitcoin and cryptocurrency startups. Startup Debut founder Michael Terpin is also the co-founder of BitAngels, the first angel network to focus on digital currency investments.
About Startup Debut. Startup Debut has been serving the needs of innovative digital and startup companies and the media since January, 2010, when it first debuted at the Consumer Electronics Show. It has now grown to five annual shows, connecting thousands of media with hundreds of early-stage startups and innovators.
About SocialRadius. One of the very first social media marketing agencies, SocialRadius has established itself as one of the world's premier boutique firms, serving an array of corporate clients and startup companies globally. The agency, created in 2006 by Marketwire founder Michael Terpin, is focused on blogger outreach, content creation, social networks and platforms, as well as full-service hybrid PR campaigns. SocialRadius is headquartered in Las Vegas, with offices in Los Angeles, New York and San Francisco.