Indiegogo's previously announced event to share their crowdfunding wisdom in Toronto, Ontario was deemed a huge success by the organizers.  None other than Indiegogo founder Danae Ringelmann was present to kick off the event last week which took place in the hip Gladstone Hotel in downtown Toronto.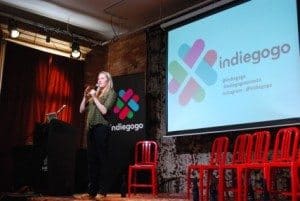 The event was partially driven by Indiegogo's forthcoming ability to process Canadian credit cards but it was noted that Indiegogo has been active in Canada since 2008.
Moderated by Indiegogo's Adam Chapnick, the presentation included a panel of successful crowdfunding campaigners including representatives from; Motes, The Glitch Soundtrack and Knix among others.
It was a packed house last Wednesday evening at the Gladstone Hotel when co-founder Danae Ringelmann kicked things off with a big announcement — Indiegogo's upcoming ability to process Canadian credit cards. Though we've been in Canada since we launched in 2008, this is a big step in further localizing for Canadians, making it easier than ever to fund what matters to them.
The event was followed by a reception which reportedly went late into the evening.
Indiegogo has also scheduled a similar event to take place in Montreal next week on July 11th.  These events are free to the public but Indiegogo has requested individuals planning on attending to register prior.