Website preps for equity/debt crowdfunding, committed to making it simpler to invest in companies.
With support from the Georgia State legislature, and the Invest Georgia Exemption, SterlingFunder has been able to start equity crowdfunding without being delayed by the delayed implementation of the Jobs Act.  And now SterlingFunder has redesigned equity crowdfunding platform to facilitate  interactions between both entrepreneurs and investors. After undergoing a period of beta testing, the new site incorporates extensive features for entrepreneurs and investors in addition to an enhanced educational center, called the Learning Hub.
"SterlingFunder is committed to removing barriers for investors and entrepreneurs and making it simpler for them to connect and create great companies," said SterlingFunder founder David Lilenfeld. "Our upgraded portal has all the latest information and features needed for entrepreneurs to create great campaigns and for investors to secure the information they need to make intelligent investment choices. We are excited about the future of crowdfunding going forward and will be continually making improvements to our platform to make SterlingFunder a crowdfunding leader."
SterlingFunder's new site incorporates many features for both entrepreneurs and investors.
● Connection: Investors and entrepreneurs can connect and interact on the easy-to-navigate SterlingFunder portal.
● Education: The Learning Hub has articles, videos, blogs and tips to make sure entrepreneurs and investors are fully informed
● Safety and Security: SterlingFunder's site is SSL-encryped to protect confidential information and all companies listed undergo a rigorous vetting process
● Support: SterlingFunder provides a personal campaign manager for entrepreneurs and clear, concise guidelines to simplify the crowdfunding process for investors
● Post-raise Tools: legal and financial documents for entrepreneurs and investors to facilitate the closing of the campaign and distribution of equity shares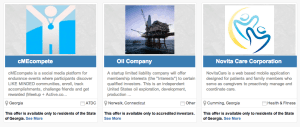 SterlingFunder is the nation's first equity/debt crowdfunding portal for both accredited and non-accredited investors. They strive to provide a marketplace for equity-based crowdfunding for start-up and growth companies.

Sponsored Links by DQ Promote