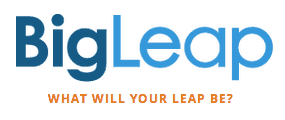 BigLeap has just launched a new crowdfunding platform for social good campaigns. These campaigns are referred to as "challenges."
Historically, incentive challenges and competitions with significant prizes or rewards have resulted in quantum-leap progress and innovation. Traditionally only a select few large organizations have used this tool. Now it's time to put this power into the hands of everyone.BigLeap
It's an interesting model. First, a campaign creator (called a "champion") sets a goal for a project. If the challenge is funded, the funds become a reward that backs a competition to meet the challenge. During the funding campaign individuals, organizations or teams can sign up to compete for the prize. Money isn't disseminated until the challenge is met.
Unfortunately raising the money for rewards has been an obstacle, so only large organizations have used incentive challenges. But by crowd-funding the prize, change-makers don't need major sponsors anymore, just friends, family, and their social networks. Our platform will give them a powerful set of tools to get the brightest minds around the world solving important problems.Charlie Crystle, Co-Founder and CEO of BigLeap
BigLeap's first challenge is championed by Professor Silvia Bunge, a neuroscience and childhood learning expert at U.C. Berkeley, and Bill Ritchie, the CEO of ThinkFun games. The challenge will give children everywhere access to free games designed to improve their brain power by helping to develop their reasoning and logic skills via simple, interactive gameplay.
"There are millions of underprivileged students out there who don't have access to the best learning environments or tools in their schools today, and because of this gap these children are at a significant disadvantage: their reasoning and logic skills are lacking, they test lower on IQ and standardized tests and they don't master STEM basics — all of which are key to future job success," says Bunge. "Several years ago my team at Berkeley ran a small study that incorporated ThinkFun games into a training program for a set group of students. The study showed that playing fun, off-the-shelf reasoning and logic games in a social group for 2-3 hours a week boosted these critical skills by over 30% and even boosted IQ scores by 10 or more points. That's huge!"
The challenge is seeking $25,000 in funding. The campaign will only be fully funded if $25,000 can be raised by September 20th. The goal is to develop engaging games that can help close the STEM learning gap in developing countries. The challenge is based on research done by Prof. Bunge at UC Berkeley, which was recently covered in Newsweek.
Have a crowdfunding offering you'd like to share? Submit an offering for consideration using our Submit a Tip form and we may share it on our site!