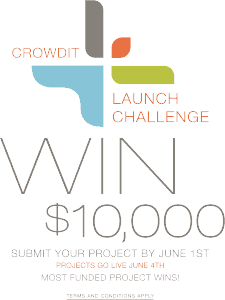 CrowdIt crowdfunding portal has announced Joel Griffin as the winner of its 75-day Launch Challenge and will receive a $10,000 prize. Griffin's dream is to open a CrossFit gym in the city of Cave Creek, Arizona and build an amazing community of athletes from all walks of life. The crowdfunding project raised more than $30,000 during the 75 days of the Launch Challenge.
"We are honored to present Joel Griffin with the $10,000 Launch Challenge prize and wish him nothing but success with his new business endeavor," said Jason Graf, CEO of CrowdIt. "This is just another bright example of how the crowdfunding model is an innovative way for people and organizations of all kinds to raise funds and pursue their dreams. While the CrowdIt Launch Challenge has ended, this day marks the beginning of a new chapter for Joel, the participants in the Launch Challenge and all of the Dreamers out there looking to use the next generation of crowdfunding to make their passion projects a reality."
CrowdIt launched their challenge on June 4 of this year which is the same day their site went live.  More than 140 crowdfunders or  "Dreamers" participated in the challenge from 30-plus states with goals ranging from small to very large, with an average project size of around $50,000.
"I want to thank CrowdIt for providing me with the opportunity to crowdfund my dream," explained Joel Griffin. "A year and a half ago, I discovered my passion for CrossFit training. While it was the most intense workout of my life, the supportive atmosphere and camaraderie encapsulated the dream I had to build my own CrossFit community in Cave Creek. With all of the money I raised with CrowdIt, I'm now able to purchase more equipment and lease a larger space in the city I love."
CrowdIt believes that just deciding to pursue a dream, whatever it may be, is the first step in the right direction. The company encourages people to understand there are support mechanisms available to anyone and equal opportunities to start a new venture for everyone.
"The playing field has been leveled and crowdfunding has helped make that transformation," continued Graf. "We encourage others to embrace it and make their dreams happen, starting today."

"Don't be bashful about your dreams, no one is going to hand it to you," continued Griffin. "If you have a dream, go for it – tell people in your community, be proactive in getting support and use tools like CrowdIt so you can connect supporters with your dream directly."
Sponsored Links by DQ Promote