Owlet "Smart Sock" Monitors Your Baby's Vital Signs, Connects to iPhone App.
Founded by Kurt Workman, Owlet Baby Care Home has created the a baby "smart sock" that transmits a child's heart rate, oxygen levels, skin temperature, sleep quality, and sleep position (rollover alerts) to a parent's smartphone or other internet-based device.  The project is crowdfunding on "Selfstarter", joining several other highly successful crowdfunding campaigns which have decided to self crowdfund.  Owlet made this decision after being rejected by Kickstarter for being a baby product.
The crowdfunding campaign is attempting to raise $100,000 and is already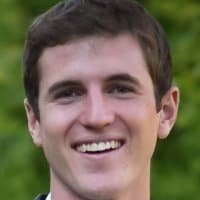 well on it's way with almost $30,000 in funds committed.  If the campaign does not achieve the $100,000 all contributions will be refunded.  Early Bird Specials start at $159.00 for an early run monitor.
Workman, the Owlet CEO and father of a baby on the way, first had the idea when caring for his twin cousins who were born prematurely. He also had a cousin pass away from Sudden Infant Death Syndrome (SIDS). The worry of whether or not an infant was getting enough oxygen was a personal one that hit close to home.
"Every parent knows what it's like to lay in bed and stress about whether your child is breathing," says Jacob Colvin, Owlet Founder and father of two. "Hearing my sick child wheezing all night long because of serious RSV is one of the hardest experiences I have ever had, knowing I couldn't do anything for her. If we can help one parent or one child, all our effort would be worth it."
Capitalizing on the boom in wearable tech, Workman realized there were no  consumer products that can show parents their child's heart rate and oxygen levels.
"A hospital pulse oximeter costs parents around a thousand dollars. We are so excited that we can offer peace of mind to parents at a financially feasible price," says Kurt Workman.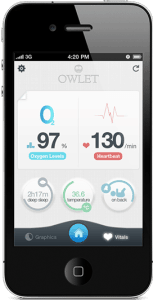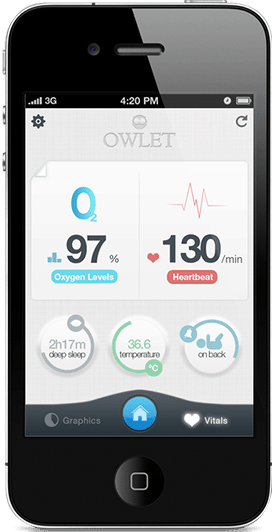 While the product admits it is not a medical device, neither should it be used for diagnostic purposes, the Owlet can help provide piece of mind for parents of infants.   The device uses a four sensor pulse oximeter to measure hear rate and oxygen levels.  It can also measure skin temperature, track sleep quality and provide roll over alerts – all to your iPhone.
The Owlet Team is currently going through the FDA process to add an alarm, along with other features, to the next version of the product.  The Owlet Team expects to finish FDA clearance by 2015.
"The FDA process is a long and expensive one, we need everyone's support to create this lifesaving product," says Jacob Colvin.
Owlet's FDA-cleared product could save hundreds of infant lives, in addition to other great benefits in the medical sphere.
"Our situation is different than most campaigns: if we don't deliver our product on time, then it loses value for parents. I'm not aware of every crowdfunding campaign out there, but I would be willing to bet we are one of the most prepared crowdfunding projects ever," says Kurt Workman.
Owlet has been working with their American manufacturers for the past two months. The electronics are fully functional and ready to be mass produced. The iPhone app was submitted a month ago and is currently going through Apple's approval process. The final touches, programming and sock design, are also finished.

The Owlet Team also plans on using its large database of collected infant health data to help researchers in the infant-disease field. According to professionals, these researchers in particular are often data-starved. By creating the largest set of infant health data, the team hopes to open the doors for researchers to find causes, cures, and predictive models for many infant ailments.

Have a crowdfunding offering you'd like to share? Submit an offering for consideration using our Submit a Tip form and we may share it on our site!

Sponsored