Travail is an innovative fine dining restaurant in Robbinsdale, Minnesota. Response to the restaurant has been so positive that the establishment quickly outgrew its original digs. Now the four-man team behind Travail has taken to Kickstarter to fund kitchen equipment for their new location, and the campaign has almost doubled a $75,000 goal in just one day.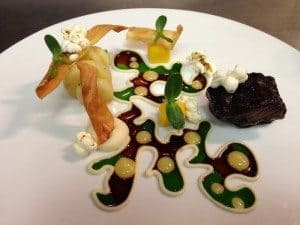 The campaign's pitch video is an entertaining look at what it is like to dine at the original Travail. The mission behind the restaurant is simple: bring the fine dining experience to the masses. That means small plates and small bites with excellent, world-class craftsmanship and attention to detail. As the campaign page states, they're "hacking fine dining."
We opened Travail three years ago with $2,000 in the bank and a purpose—to make fine dining food interactive, approachable, affordable, and a lot of fun. We've worked under extraordinary chefs in amazing restaurants. They helped us fall in love with food, with eating, with creating the perfect bite. But most of these restaurants were out of reach for people like us, our friends, and our families. They were too hard to get into, too expensive, too intimidating. When we opened Travail, we created an inviting space where our progressive culinary experience was accessible to anyone who wanted it.
It isn't all white tablecloths and tuxedo-clad servers, though. In fact, it isn't any of that. It's a pub atmosphere, a bustling open kitchen and apparently even beer drinking contests with the chefs. It's an interactive spin on food traditionally reserved for the most stodgy of establishments.
The new concept actually consists of two spaces – Travail and The Rookery – that promises two unique experiences. For those willing to bow to the whims of the chefs, Travail will continue to offer prix fixe tasting menus described as a "multi-hour, multi-sensory experience for food adventurers."
The Rookery will be more of a traditional restaurant offering crafted cocktails and small plates. The two locations will be housed in the same building. The goal of creating two experiences is at least in part to cut down on wait times, which are described as sometimes being as long as four hours. (!)
Travail doesn't take reservations, but backers are able to secure two chances to jump the line at the $250 pledge level among other perks.
One backer has pledged $10,000 for a private party for 40 lucky guests and a host of other goodies.
The campaign already has enough funding to land it at #10 all time for food projects on Kickstarter, and it seems likely that the campaign will continue to march toward that number one spot. Whether it can ouster the Sansaire Sous Vide Circulator for the top spot remains to be seen. They'll need just over $800,000 to do it.
Have a crowdfunding offering you'd like to share? Submit an offering for consideration using our Submit a Tip form and we may share it on our site!