Launches "Invest in What You Know" Campaign.
UK based equity crowdfunding portal, InvestingZone has taken its 'Invest in What You Know' advertising campaign to London's streets by leveraging iconic London taxis. The campaign is aiming to encourage UK investors to "do more with their money" by building and managing their own portfolios as they invest in Britain's most interesting start-ups and small businesses.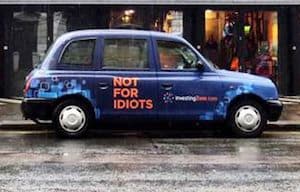 Started in September and continuing to December, the promotion features a national advertising campaign, including placement in national and financial media with 'Not for Idiots', 'The Cleverest Person You Know Is You', 'Don't Follow the Crowd, Work it' and 'Nobody Tells You What to Do' headlines.  This is the first time a company has tried to bring these investment opportunities to a mainstream, national audience.
Crowdfunding investors can commit relatively small amounts of money and have access to a wide range of investment choices. They can personally gain experience of the investing process, how to evaluate opportunities and learn quickly from more experienced investors, whom they will invest alongside. Crowdfunding is giving the UK the opportunity to substantially expand the investor skills of the population at large.  It will encourage people to invest some of their savings in exciting new companies, rather than watch it being continually eroded by inflation and historically low rates of interest being offered by the banks, all of which will help to stimulate economic growth.
Company founder Jean Miller said: "Over 80 per cent* of UK investors find it exciting to invest in companies they can personally select, this campaign will make people aware of InvestingZone's hub of exciting, early stage growth businesses looking for their backing. Investing isn't rocket science and Investors can start with what they know and go from there."
"Over a third* of UK investors cite the fee charged by their broker/advisor as one of the most frustrating things about their current investments. InvestingZone is all done online and, with no fees to investors, cuts out the middleman. Our campaign will very much focus on 'maintaining control' and giving those who are looking for alternative investments a real opportunity to do more with their money."
InvestingZone backer, Jon Moulton said: "Often the cleverest person an investor knows is him or herself. Nobody tells you what to do! InvestingZone lets the investor spread the risk and take control, which is an exciting prospect for most investors. If you're an investor, try it!"
InvestingZone is the 'professional' alternative to other crowdfunding platforms aimed at people who understand business and are genuinely interested in creating a portfolio of investments.  The company conducts due diligence on all the businesses on its network and potential investors are able to study any of the listed organisation through a range of online services.
InvestingZone was founded by two business entrepreneurs, Jean Miller and Richard Brockbank, both active investors themselves with a professional background in early stage investing. They are both directors of E-Synergy Limited, an early stage VC with more than 10 years' experience and over £45 million in finance raised.