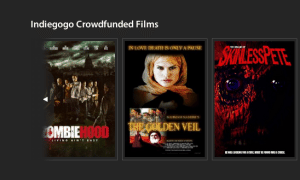 Film marketplace IndieReign, which allows filmmakers to self-distribute and sell their content directly to fans online, has formed a partnership with rewards based crowdfunding platform Indiegogo. Now filmmakers may decide to leverage the services for their projects and help capture extra support and coverage during their crowdfunding campaign.
"We are excited about our partnership with IndieReign," says Danae Ringelmann, Co-founder and Chief Customer Officer of Indiegogo, "IndieReign are one of the leaders in the movement towards a more sustainable independent film industry. With literally thousands of film projects around the globe raising funds each month on Indiegogo, both our organizations are naturally aligned to helping filmmakers succeed."
Since launching their platform in January 2008, Indiegogo  has launched more than 150,000 crowdfunding campaigns and has experienced growth of 112% over the past year.  The site distributes millions of dollars every week.

IndieReign has supported over 100 crowdfunding indie film projects from all around the world this year already.
One of the many projects that benefited from the partnership was American/Korean film collaboration, Amiss. Raoul Dyssell, co-director/co-producer of Amiss, says,
"Without IndieReign, Amiss would never have reached the international audience it did, thereby not only reaching our campaign goal, but surpassing it with extra donations, after the campaign had ended, from global supporters who found out about the film on their website".
Dyssell's Indiegogo campaign, Believe in Amiss, was featured on IndieReign's blog, promoted over the IndieReign community, won both IndieReign's Project of the Week and Project of the Month competitions, and will go on to be distributed on the platform when released.
"Independent filmmakers look to IndieReign for direction and advice which is why we are very careful when it comes to who we partner with" says David White, CEO and founder of IndieReign who recently spoke about digital distribution at AFM (American Film Market). "We chose Indiegogo because they're not only the world's largest global crowdfunding platform, but their values align with our own, and this partnership provides a new channel for independent filmmakers to easily make the transition from financing to distribution."
Sponsored Links by DQ Promote