Could crowdfunding help to provide a better way to treat certain forms of cancer? This is the amazing question at the core of a crowdfunding campaign that aims to raise $500,000 in funding to complete a study aimed at providing a treatment for cancer that is free of harmful side effects.
Research being conducted by Dr. Daniel A. Saltzman at the University of Minnesota promises to completely transform how we fight cancer. Project Stealth uses altered salmonella to deliver a sneak attack of anti-cancer drugs directly into tumor cells – without causing any of the side effects traditionally associated with cancer treatments.
According to Dr. Saltzman, federal funding for medical research is at an all-time low. Rather than waiting and hoping for the National Institutes of Health to fund this project, he is turning to the crowd for donations.
Project Stealth hopes to target various forms of cancer: Osteosarcoma, Neuroblastoma and cancers of the lung, pancreas, colon, brain and breast.
The delivery mechanism is salmonella bacteria, which is naturally drawn to tumors. Salmonella bacteria is modified to remove the harmful side effect – food poisoning – and the DNA of the bacteria is augmented with proteins. Research has shown that these proteins can attack cancer cells and destroy or significantly shrink tumors.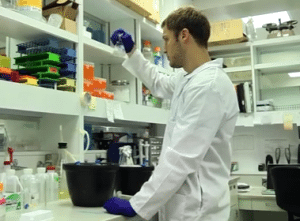 The downside of existing cancer therapies is collateral damage. Toxic chemicals used in these treatments destroys more than just cancer cells. This treatment may provide a way to attack cancer cells without damaging other tissues. The key is the use of salmonella as a delivery mechanism.
On top of tests done on over 4,000 mice, a golden retriever by the name of Buddy has been treated with this regiment successfully. Buddy was diagnosed with bone cancer, but he is now living cancer-free. The research team at the University of Minnesota say that their therapy has put Buddy's cancer into remission.
Donations are being accepted through a University of Minnesota gifting platform.
Have a crowdfunding offering you'd like to share? Submit an offering for consideration using our Submit a Tip form and we may share it on our site!