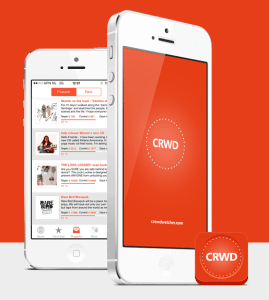 An app called CrowdWatcher recently launched on Apple's App Store. CrowdWatcher wants to put all of the notable platforms in one environment and allow users of the app to keep up-to-date with the most recent happenings with each app. The Amsterdam-based team behind the app has included popular platforms active in the European market including Symbid, Indiegogo, Cinecrowd and others.
It is not always easy for entrepreneurs to find capital in the current economic climate. For many entrepreneurs, crowdfunding is excellent alternative to raise start-up capital or a portion of their financing needs. However, the demand for funding 'in the crowd' is far from transparent, both for entrepreneurs looking for capital and for financiers looking for new investments. As a result, it can be difficult for investors and entrepreneurs to find each other. By bringing together various initiatives in our unique CrowdWatcher app, we provide the perfect meeting place for supply and demand, and by doing so accelerate the realisation of crowdfunding projects globally. Crowdfunding initiatives currently raise some EUR 10 million a day. In a more efficient market, we could see a huge multiplication of this figure.Frans Wieringa, CrowdWatcher CEO
The app's developers hope that CrowdWatcher will help to spur involvement in the crowdfunding space by streamlining the process of finding interesting projects. The app launched with 7,000 active campaigns and the team plans on adding about 20 new campaigns per day.