Donate Health to World's Most Vulnerable. An alternative for last-minute gifts: Crowdfunding medical treatments and safe births.
Nyaya Health, a for-purpose organization that exists to realize the right to health by delivering transparent, data-driven health care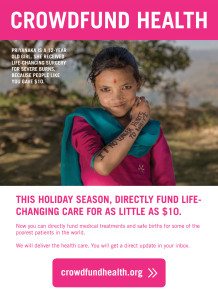 for Nepal's rural poor has announced a new health crowdfunding platform. Social entrepreneurs have joined together to launch Crowdfund Health, an innovative site that allows people to directly fund medical treatments and safe births for patients in Nepal, who are some of the poorest in the world.
Donors can use Crowdfund Health to fund medical treatments and safe births, for as little as $10. The person who is receiving the gift of the donation will be notified by email of the gift in his or her honor and will receive another update once the patient has received care.
Patients in Nepal are forced to travel up to 36 hours to access basic medical care. For less than the cost of a stocking stuffer, donors can remove barriers to treatment by funding medicines, transportation, tests and care. And for less than the cost of many new electronic gadgets, givers can ensure that a mother in Nepal can give birth safely.
Nearly one-third of the world's populations lack surgical care. This is a last-minute gift that will dramatically impact the lives of people in need of care.
Crowdfund Health was developed in partnership byNyaya Health, which provides health care to some of the world's remotest regions in Nepal; crowdfunding organizations Watsi and Kangu; Dear World photography; andThe Deltree video and digital production studio. The site is a powerful display of collaboration between young social entrepreneurs who are using partnerships to disrupt giving-as-usual and bringing health care to people under extremely challenging circumstances.
"Instead of spending a few dollars on a stocking stuffer for your friends and family, please consider giving a 'gift' of investing in someone else's health care," said Mark Arnoldy, executive director of Nyaya Health. "This gift could literally provide someone with a lifetime that they otherwise might not have had, and you will get an update on the patient's status directly to your inbox."
Nyaya Health has delivered care to over 150,000 patients and currently employs over 160 Nepali staff. The organization was ranked as a Standout Organization by nonprofit evaluator GiveWell in 2011, is currently on The Life You Can Save's Top 10 List of Most Effective Charities.

Sponsored Links by DQ Promote