Last updated Tuesday, February 18 @ 10:42 AM EST
When I came across The Dash on Kickstarter, I thought it was a mistake. $2 million raised with 41 days to go? That is impressive even by Kickstarter's standards.
Munich, Germany-based Bragi LLC has raised this impressive sum in just over one week for their forthcoming set of wireless smart headphones geared toward those with an active lifestyle.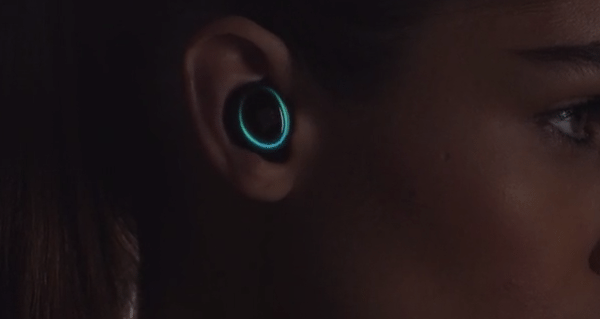 So what do these headphones promise in the way of functionality? Obviously they'll play music, either via bluetooth or from 4GBs of internal storage. They'll also double as a bluetooth headset for your phone, with an integrated "ear bone microphone" that isn't sensitive to background noise.
In addition, The Dash also promises much of the workout tracking functionality that comes along with wearables like the Jawbone and Fitbit. The device and its accompanying app can track distance, steps taken, speed, time, rotation, turns, airtime and more depending on what sport the wearer is participating in.
The Dash has a touch surface for controlling settings, with the left ear handling tracking of workouts and movement and the right controlling music settings like skipping a song or upping the volume. Everything is said to be controlled with a simple swipe.
The battery is only 100 mAh, so The Dash will only go a few hours on a charge. However, the case itself acts as a battery and will recharge The Dash up to five times before having to be charged itself. The 3-4 hours or so of battery life is sufficient for the adventure seekers the device is geared toward.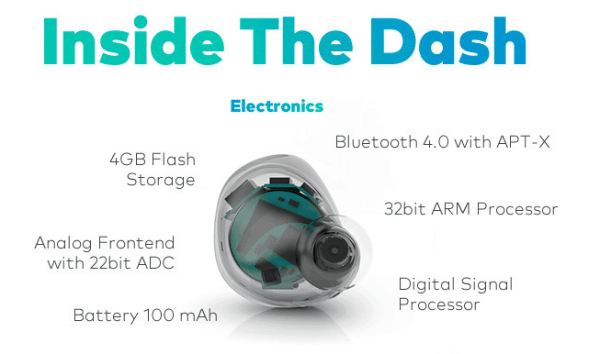 Wrap this all together and it's no wonder why almost 10,000 people have contributed to the campaign at the time of writing.

The next stretch goal is well within reach at about $2.5 million. It'll net backers a Windows Phone app for The Dash. No stretch goals are set up past that, but if the pace keeps up Bragi will have to begin considering what to offer next.

So, the big question… can this team deliver on all of this stuff this device promises? For one, its a big team of 15 people, and on paper that team is strong. Anecdotally, the campaign page mentions that their team averages over 20 years of experience per. Bragi is headed by Nikolaj Hviid, former Head of Design at Harman.

The ubiquitous "risks and challenges" section mentions that Bragi has a single supplier for certain parts for The Dash, which is a risk. They admit any supply chain disruption could delay shipping. Delivery is expected sometime in Winter 2014 consumers and Summer 2014 for developers. Having said that and based on these risks, consumers may want to consider the possibility of lateness before backing.

Also note that according to TechCrunch, Apple was recently awarded a patent for "headphones with integrated activity, health and fitness tracking."

If the campaign ended right now it'd be #23 on Kickstarter's all-time most funded list. If that $2.5 million stretch goal is eclipsed, The Dash will be sitting #14 behind Elite: Dangerous. We'll see how high this campaign can climb. It has plenty of time to do so.

Pebble's $10 million Kickstarter record seems safe for now, but never say never. This wearable hasn't received nearly the amount of fanfare in the press that Pebble did, but that could change if this campaign continues its impressive raise.

Have a crowdfunding offering you'd like to share? Submit an offering for consideration using our Submit a Tip form and we may share it on our site!

Sponsored Links by DQ Promote