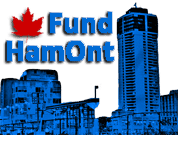 Founded by entrepreneur Jim Rudnick, Hamilton, Ontario has launched their very own community crowdfunding portal.  FundHamOnt officially went live this past February and was created with the acknowledgement that "every single entrepreneur is looking for funding".
The platform is designed similar to other large crowdfunding platforms and hopes to capture the support of the over 500,000 citizens of Hamilton – alongside donations from across the globe.
In Canada according to the National Crowdfunding Association of Canada (NCFA), there were 45 crowdfunding platforms in Canada and in 2013 the industry is projected to grow to $5.1 billion of which $265 million may be assumed to come from Canada (at 10% of projected US $2.65 billion).
Rudnick is an entrepreneur that owns and SEO optimization firm KKT Interactive and is one of Snap-pay's founders.  As countries in Europe and the United States began to clarify regulations on crowdfunding, Rudnick became intrigued about the potential for crowdfunding in Canada.  Some industry observers believe geographic specific crowdfunding will act as a catalyst for boosting local economies, by providing a streamlined path to fund local businesses that have deep community ties.
While Rudnick is currently focused on rolling out a geo-specific site, a website that he said he could not find in any other place,  he recently stated that:
"It's going to snowball," Rudnick said, "I'm so surprised nobody else has done this. This is a city builder."