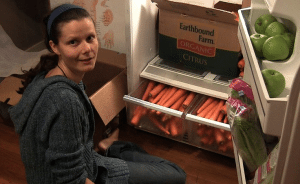 With less than 60 hours to go, Sarah Mabrouk, Amy Thomasson and their Upwind Pictures team has exceeded their stretch goal and raised over $102,232 for their documentary "The Food Cure." To date, 1,336 backers have supported their documentary.  Their  Kickstarter crowdfunding campaign, highlighted two weeks ago in Crowdfund Insider, raised nearly $30,000 in the last two weeks. 
"The Food Cure" illuminates a controversial nutritional therapy, based on the idea that strengthening the body's own immune system will enable the immune system to detect and independently kill cancer cells.  According to Kickstarter updates, this surplus has significant ramifications for the film's post-production: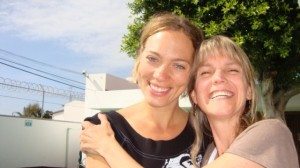 It means that we will DEFINITELY be able to complete film with high production values, including top-notch editing!
It also means that we can can keep this production completely INDEPENDENT and will not have to ask broadcasters or other major funders to help us complete the film (which means we can maintain control of the content)
We can ask a composer to write a beautiful original score for the film!
I recently caught up with "The Food Cure" Director Sarah Mabrouk via email to discuss the film's concept and evolution, as well as her and Amy Thomasson's use of social networking and crowdfunding:
Erin: Could you please share what led to the subject of the food cure?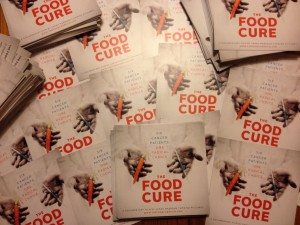 Sarah Mabrouk: I came back from a stint of reporting in the Middle East and was struck by the fact that while we were reporting about the unnecessary deaths in far away places, there was a different, quieter kind of mass dying going on right on our own doorstep and that considering the vast scale of the cancer problem facing our society, it is really underreported. I then set out to write an article about how alternative cancer quacks in the Mexican "cancer belt" were benefiting from this scourge by preying on the desperation and vulnerability of advanced cancer patients. But as I researched more about the historical background of doctors like Max Gerson and began sifting through old medical archives, it soon became clear to me that the story wasn't as black and white as I had imagined. I dared myself to push aside my own preconceptions and look at this topic without prejudice. I decided to focus not so much on the two opposed sides and their experts and arguments – given that there were no significant studies to prove that these alternative therapies worked or didn't work – and to focus on the patients who make this choice instead. I wanted to understand what made them turn to alternative medicine and to know what it was really like to undergo a therapy like this and asked patients whether they would allow me to document their experiences with cameras over a long period of time – three years – no matter what the outcome. And that's exactly what I did.
Erin: How did you choose the six patients?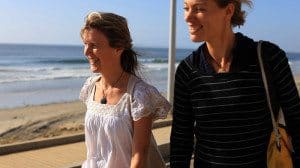 Sarah Mabrouk: I met one of my protagonists while taking a bus tour of alternative cancer clinics in Mexico. Another I met at a clinic in Hungary, and I found the other four by asking the Gerson Institute to send a letter that I wrote stating my purpose with this documentary film to patients who were inquiring about the Gerson Therapy. Of those who were interested in taking part in the documentary film, I tried to select people who I felt would be honest and would allow me to film their experience, good or bad, and not send me away if things didn't work out so well. I have to say, all of the patients in the film turned out to be sincere, forthcoming, and extremely generous towards me and my team. It is not easy to have cameras around when you are in the most difficult and life-threatening period of your life. I have the utmost respect for my protagonists because I know that they agreed to the filming in order to help others who find themselves in the same situation, and because they would have liked to have access to a film like this when they were making their choice.
Erin: In addition, please describe your experience crowdfunding.  What would you do differently next time?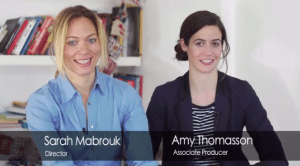 Sarah Mabrouk: The crowdfunding experience has been a mighty and exciting roller-coaster! My producer Amy and I had no idea if this would work since it is our first time crowdfunding. Besides needing the funds in order to complete the film, we also wanted to get a sense of the interest for this film through the campaign. The positive reactions and feedback has been absolutely overwhelming and we're thrilled that we embarked on this adventure. Now we know that there is a real need and a strong demand for a film like this.
Erin: How have you used social networking to market your documentary?
Sarah Mabrouk: Facebook and Twitter have been essential tools for us. Amy has been running both of them for the most part and it represents a huge work load but it is also a wonderful way of getting in touch with wide circles of people who share an interest in the same topic. It has been really helpful and all the great people – most of whom we don't know personally – who have shared our link over FB in the last few days have been instrumental in helping us reach the stretch goal.
Erin: With which other films/documentaries does "The Food Cure" create a dialogue or debate (i.e. "Forks over Knives")?

Sarah Mabrouk: "The Food Cure" picks up where a lot of other great films that shine a light on the topic of nutrition like "Food Matters," "Forks over Knives," or "Food Inc." left off. Our film takes the question "how important is what we eat?" one step further, by exploring the absolute extreme of what one could possibly hope to achieve with food – namely to cure serious degenerative diseases like cancer. The protagonists of "The Food Cure" are putting the famous quote attributed to Hippocrates — "let food be thy medicine and let medicine be thy food" — to the test, at the risk of their lives.
Erin: How has filming the documentary specifically changed your own and your team's outlook on nutrition and health?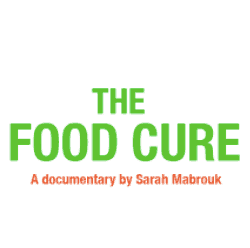 Sarah Mabrouk: My own perception of nutrition and health has changed radically during the making of this film. I look at food with completely different eyes. In fact, a lot of the things I used to consider "food" now appear like little more than stomach fillers to me, and I appreciate it greatly and gloat when I am served fresh "real" food. While that makes eating out more difficult than it used to be, what is wonderful is the greater sense of power over my own health and wellbeing that it has given me. Of course, I cannot completely control which diseases I develop or not, but I feel much less helpless than before. I've learned a lot about how I can myself healthier or sicker, and it is a wonderful, empowering feeling.

___________________

Note: For more information, readers may also enjoy viewing these two recent blog posts Sarah wrote: https://gerson.org/gerpress/category/blog/

and https://gerson.org/gerpress/why-im-making-a-documentary-about-the-gerson-therapy/.

Have a crowdfunding offering you'd like to share? Submit an offering for consideration using our Submit a Tip form and we may share it on our site!

Sponsored Links by DQ Promote