Peter Renton has been informing the world about the peer-to-peer lending space for some time now. Lend Academy is a great source of deep information on P2P lending and stalwart platforms like Lending Club and Prosper.
Renton is now taking his place in the space to the next level. He's looking to raise $28 million to launch Lend Academy Investments LLC, co-founded with former hedge fund manager Jason Jones and valuation expert Bo Brustkern.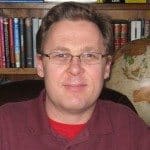 The goal for Renton is to offer a fund of loans sourced from – you guessed it – Lending Club and Prosper, with the inclusion of Funding Circle as well. That portfolio is likely to grow over time. Renton and company want to raise $100 million by the end of 2015.
The fund will be offered along with managed accounts. Three products will be available – low, medium and high risk – offering targeted annual returns of 5%, 7.5% and 10% respectively. Lend Academy will charge a 0.95% to 1.5% fee.
[h/t Bloomberg]