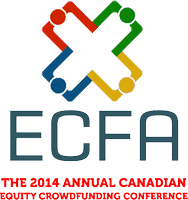 The Equity Crowdfunding Alliance of Canada (ECFA Canada) has scheduled their first conference for what is expected to be a series of events across the country.  ECFA Canada was formed only recently and with the recently and has picked up momentum with the announced regulatory proposals for Canadian investment crowdfunding.
ECFA Canada is represented by companies and individuals with an interest in Equity Crowdfunding from across the country.  The organization's mandate includes supporting, educating and developing the equity crowdfunding industry in Canada.  The group hopes to educate and encourage a vibrant and growing market for crowdfunding companies, investors and the businesses that support the industry.
The first day long gathering is scheduled for April 24, 2014 in Toronto, Ontario.  Subsequent events are expected in Montreal, Calgary and Vancouver.