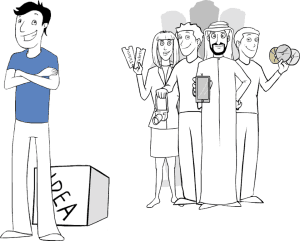 Mawwell, an international rewards-based crowdfunding site for creative and innovative projects has launched a crowdfunding platform for the Europe, Middle East & Africa markets (EMEA).  Mawwell launched in beta in July of 2013.  Mawwal means "fund" in Arabic.
The site wants to create the opportunity for project creators who may be too small for bankers to attract the attention from individuals whose financial support will help the projects come to fruition.
"We are very excited about the launch of Mawwell as the first crowdfunding platform to fully address the EMEA creative projects crowdfunding needs." said Joanna Truffaut the Founder and Director of Mawwell.
Truffaut who lived in the UAE before moving more recently to France, was recently quoted:
"None of these international platforms have the deep knowledge that we have of the Mena [Middle East and North Africa] market — its subtleties, its challenges and its phenomenal potential.
Mawwell is accepting projects in the following categories:  Music, Gaming, Art, Comics, Publishing, Technology, Design, Films & Documentaries, Photography, Fashion

Project creators can post a project in one of the above categories and run fundraising campaigns, with a deadline and a target amount, in order to fund their creative projects. Each campaign targets pledgers who are looking to support creative or innovative projects against non-monetary rewards.
Pledges will automatically be paid to the project owner only if the campaign goal is reached or exceeded by the set deadline. If not, all pledges will be automatically cancelled, meaning that it is a neutral operation.
Mawwell will launch with the below four projects. Three out of four of these projects are made by Middle East and North Africa residents.
Eclectic – The Album: a world music album project by Dubai producer DJ AKS. An awarded producer, AKS has worked with Enrique Iglesias (Turn The Night Up official Remix), Sean Kingston, and also remixed officially for Top Bollywood Films Soundtracks such as : Bhaag Milkha Bhaag, Student of the Year.
Polly Gone: a well written and illustrated book for children, which story is about a triangle who wants to become a square. This is a unique book project as it was written by a French Canadian 10 year old kid who happens to be a writing genius. The parents have taken the initiative to crowdfund the publishing of the book.
Qrated: A cultured and fun tourism voice guide application which aims at providing the best guided tour experience and break with the traditional inanimate guides (such as old fashioned audio guides and travel guide books).
Seven Quests – poem to game: An online strategy game based on the 1,000 year old Persian epic poem of Rostam and the Epic of the Kings (The Shahnameh) by Ferdowsi. The creator, of Canadian Persian origin is passionate about making riveting gaming experiences that serve to share the rich heritage of the Middle East with the rest of the world.
Mawwell intends to meet the fast growing creativity and innovation scene in Europe Middle and North Africa and help these projects get off the ground by leveraging the power of the crowd.

The website is currently available in English and Arabic.

Sponsored Links by DQ Promote