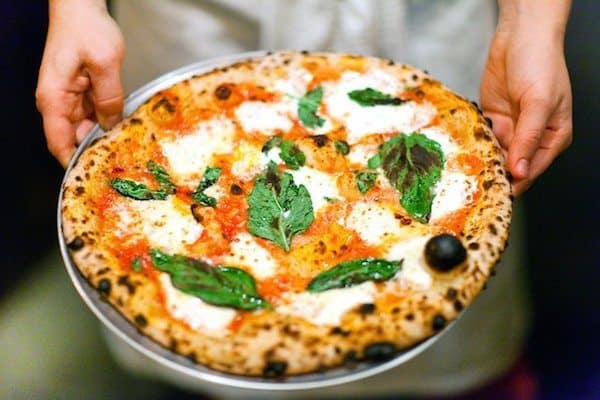 New York-based Paulie Gee's DTLA has recently launched its crowdfunding campaign on Fundable and is seeking to bring Greenpoint, Brooklyn's favorite slice to the Arts District of downtown LA.  To date, detailed financial and investor information remains disclosed only to registered Fundable investors regarding Paulie Gee's crowdfunding campaign.
Founder of Paulie Gee, Paul Giannone, spent three decades in the IT industry, managing and consulting for large organizations like the New York Port Authority and AT&T, but craved something more.
 Mr. Giannone stated, "In recent years, the American culinary scene has excelled in taking beloved low-scale food favorites and elevating them to full gourmet status with high-quality ingredients, innovative flavor combinations and handcrafted attention to detail, the pizzamonger Paulie Gee's  DTLA campaign indicates, "First it was beer, then burgers, then tacos — now, it's pizza's turn to get the gourmet treatment."
Caution famished readers,  savory details to follow.  Paulie Gee's pizzas are made using only the highest-quality ingredients (locally sourced whenever possible), including artisanal cured meats and sausages, fresh cheeses, locally grown tomatoes, market-fresh seasonal produce and high-grade pizza flour.  Paulie Gee had me at fresh cheeses… just think about the southern California's abundant toothsome creameries and farms.  I'm still thinking about them.  Additional caution should be taken before watching the mouth-watering campaign video!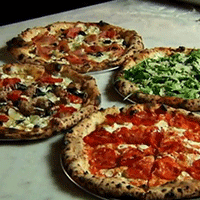 Pizza specs: Paulie Gee's pizzas are between 12 and 13 inches in diameter,  the perfect size for a personal entree. Their homemade dough is carefully formed then baked in high-temperature wood-burning stoves to produce a light, airy, flavorful crust. Pizzas are topped with innovative, chef-inspired topping combinations for unique, complimentary flavor profiles in perfectly balanced proportion.  Always one for a pun, the pizza's names are much appreciated: A Whiter Shade of Kale,  Red, White and Greenpeace, Anise and Anephew, and my favorite, Ricotta Be Kiddin' Me.  Thankfully, the drink menu will feature Mexican Coca-Cola, Boylan's soda and sparkling water from local producers, in addition to highly regarded local wines and craft beer, hot coffee and espresso, pricing dinner at about $20 per person.
Here's an interesting interview with Paul Giannone conducted by AARP's Connor Toomy last year, before he partnered with Paulie Gee's DTLA owner Louis Tomczak:
CT: Why pizza?
PG: I love pizza. It became a new passion for me to go on a quest for some of the best pizza in the New York area from both coal- and wood-burning ovens. I would start planning these little outings with my sons, we would go on the weekend to various pizzerias, maybe four or five in one day and have a slice or two in each place. Although it was challenging to make really good pizza, it was simple; you have one dough recipe and a bunch of toppings that you can chop up, maybe sauté them, put on the pizza, shove in the oven, and voilà, you have a pie.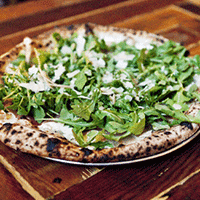 CT: What is your favorite pizza at Paulie Gee's?
PG: I have about 10, but I'll tell you three. Anise and Anephew: fresh cow's milk mozzarella — fior di latte — fennel caramelized and braised in chicken broth, Berkshire guanciale, and when it comes out of the oven we add sweet anisette cream sauce and some fennel fronds for appearance.   I also love the Greenpointer, and the Delboy. Greenpointer: fior di latte, baby arugula, olive oil, fresh lemon juice and shaved Parmigiano Reggiano. And the Delboy: fior di latte, Italian tomatoes, Berkshire sopressata piccante and Parmigiano Reggiano.
 CT: How important has Brooklyn been to your pizzeria's success?
PG: I discovered Greenpoint and I was smitten; I knew this was the neighborhood for me, and there were no pizzerias. The people were eager to have more places to eat that they could call their own. They really embraced me.
CT: A lot of your success also came from your participation in pizza blogs?
PG: Starting around 2004, I'd go to pizzerias and take pictures to post on blogs. I knew if I was going to open up a pizzeria I'd have to impress these bloggers. Once I felt good about my pizza, I invited other pizza enthusiasts to my house where I had constructed my first oven. I continued having pizza tastings until I got the most respected pizza bloggers to come to my house. This strategy started a snowball effect.
CT: Do you have plans to open another Paulie Gee's?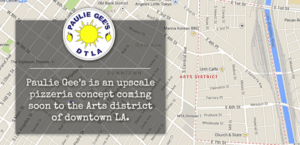 PG: The restaurant and I are one. I realize I can't open up a second place because I can't do something half the time. What I can do instead is just pay it forward. I've had a lot of success inviting people into my restaurant to work for free so that they could learn how to do this for themselves. If I could find someone that has the same passion as I, and wants their own place, I could help them do that and we can both prosper.

How much changes in a year!  Partner found!  Paulie Gee's DTLA's campaign details will continue to be posted on Fundable.

____________________________

Have a crowdfunding offering you'd like to share? Submit an offering for consideration using our Submit a Tip form and we may share it on our site!

Sponsored Links by DQ Promote