IgnitionDeck, Inc., a provider of WordPress-based commerce solutions, has acquired two popular tools for no-fee crowdfunding: Fundify, purchased from Astoundify; and CrowdPress, purchased from BoxyStudio. The acquisitions consolidate IgnitionDeck's ownership of the some popular solutions for no-fee crowdfunding on WordPress, which is the dominant online publishing platform.

No-fee crowdfunding tools let fundraisers host their own donation pages, keep all of the money that they raise, and control their relationship with users. They offer a professional-looking and money-saving alternative to sites like Kickstarter and Indiegogo, which charge commissions on all funds raised, limit fundraising durations, impose their own branding, and control the communications between fundraisers and donors.
Although the terms of the sales of Astoundify and CrowdPress to IgnitionDeck, Inc. were not disclosed, IgnitionDeck will continue supporting and developing Fundify and CrowdPress as standalone products, and is working with Astoundify and BoxyStudio to ensure a smooth transition.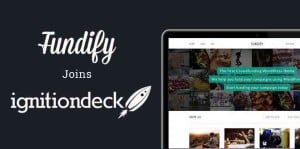 Since its launch in 2011, the IgnitionDeck plug-in tool has become the leading WordPress solution for crowdfunding standalone projects, including the $40+ million dollar raise for the video game Star Citizen, which surpasses all projects on Kickstarter and Indiegogo. The record-setting Star Citizen campaign is familiar in gamer circles but has not previously been mentioned in a press release.
Launched in 2012, Fundify soon became one of the most popular tools for hosting multiple crowdfunding projects simultaneously, enabling people to "be their own Kickstarter." The CrowdPress design theme provides a customizable front-end to Fundify's functionality. All of these solutions– IgnitionDeck, Fundify, and CrowdPress– let hosts avoid the typical 4% to 9% commissions levied by commercial crowdfunding sites, have sold thousands of copies, and enjoy active user communities.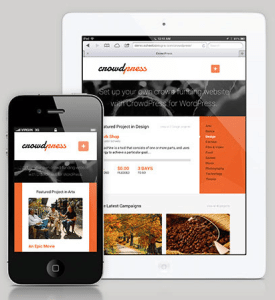 IgnitionDeck co-founder, Nathan Hangen stated, "The IgnitionDeck and Astoundify teams have had multiple positive interactions. During one recent conversation, we began toying with the idea of bringing Fundify into the IgnitionDeck product suite. Within weeks, both teams knew it was the right thing to do, agreed on the terms, and shook hands."
Astoundify co-founder, Adam Pickering added, "We're proud of Fundify, and all of the success and good will that it has generated. We are glad to see it become part of the IgnitionDeck family– it's a perfect match."
In January 2014, Indiegogo announced Indiegogo Outpost, which replicates IgnitionDeck's ability to embed a crowdfunding campaign in a host website. The Outpost feature was scheduled for release Q1 2014, but it has not yet been delivered as of this writing.
Fundify costs $60. IgnitionDeck packages range between $79 and $349. WordPress hosting for a 90-day campaign costs about $20. By comparison, a crowdfunding site with a typical 5% commission charges $1000 for raising $20k, and $10,000 for raising $200k. All forms of online crowdfunding incur transaction fees from a payment processor such as PayPal or Amazon Payments.
WordPress takes a day or so to learn, or else a consultant (support your local economy) can use off-the-shelf tools like IgnitionDeck and Fundify to create and launch a custom crowdfunding site for you in an hour or two.