Here is one that you can chalk up to the profound bureaucracy that encumbers many medical decisions.  Now in light of the insurance company's refusal to cover certain costs, the family has gone to the pages of GoFundMe to help finance something one would expect insurance to cover.
Alex Hunter was first diagnosed with cancer at the age of 4.  Something any family would find incredibly sad and beyond challenging.  He was first treated for Rhabodomyosarcoma a very rare type of cancer that attacks the muscles attached to bone. After "beating" this cancer, Alex then was afflicted with Hurthle Cell Carcinoma, another rare type of cancer that impacts the thyroid – something his family believes was brought on by the treatment of the first cancer.  Alex has beaten this round of cancer as well but his battles with the horrible disease have ravaged his teeth.  Alex decided to have his remaining teeth removed to get dentures.  Now the insurance company has reportedly paid a portion of the oral surgery they have oddly denied payment for any portion of the dentures.  Not too certain how they expect Alex to eat…
As reported by Channel 23 in Bakersfield;
"His insurance paid to have the dead teeth removed, but won't pay for new ones. "[The insurance] said it wasn't a medical issue and of course it's from a medical issue," Roberta said [Alex's Grandmother].

The family says new dentures would cost about $11,000 but Alex does not want to burden them. The family is applying for money through various foundations, but Liz Hunters, Alex's mother, says there are requirements for each one which makes it difficult."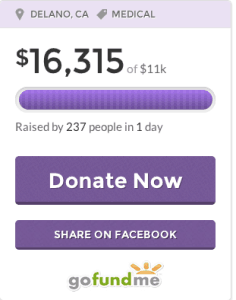 The foundations are certainly worth a go but alternatively the family has launched a crowdfunding page on GoFundMe where they quickly raised the much needed funds.  In fact he has raised over $16,000 in just one day as over 230 good hearted people came to his aid.  There are even dentists or prosthodontists that have offered to help for free.
Every now and again you see something that helps to maintain your faith in the greater good.  This most certainly qualifies.
Have a crowdfunding offering you'd like to share? Submit an offering for consideration using our Submit a Tip form and we may share it on our site!