Funding Circle, a peer to peer lending platform that strives to operate a highly transparent lending business, recently shared some insight into their defaults and recovery side of their company.  Just like any other investment, lending on a P2P platform entails risk.  Investors mitigate risk by having a balanced portfolio.  Data on P2P lending platforms have shown a higher rate of return for associated risk thus increasing investor interest.  Funding Circle is one of the leading P2P platforms in the UK but they also have set up shop in the United States (and are looking to expand into other markets).
Funding Circle states that at times business will be unable to repay their loans due to a change in circumstances.  This failure to pay may be a temporary situation or a permanent one.  Funding Circle has a team of collections and recoveries personal, a process that was brought in house in February of 2014, with an approach to try and keep the borrowing business up and running. To quote;
"One of our core principles of collections and recovery is 'survival for revival'. A business that ceases to trade or is declared bankrupt without any recovery for investors is never a positive outcome."
Since Funding Circle has shouldered the task of recovery they have seen a decline in late payments.
"the number of businesses that are late with their monthly repayments has dropped since February from ~1.5% to less than 1%. The lowest this has reached is 0.80% was on 31 July 2014."
Funding Circle states this decline in delinquencies is not because they are simply shifting the loan to the default category but because of their internal procedures;
"…the decline in late payments is a result of building industry leading policies for managing businesses in distress. These policies involve working closely with borrowers as soon as they experience trouble – which helps to reduce the frequency of late payments, and puts us in a better position should the business ultimately cease to trade."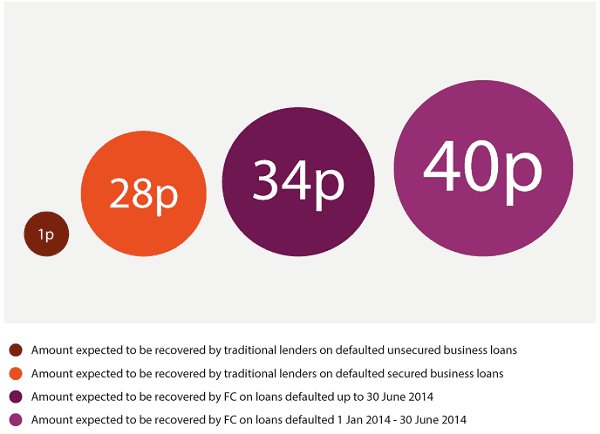 When a loan goes bad investors are obviously keen on recovering as much of their capital as possible. The graph below created by Funding Circle not only shows their trend in recovering a greater amount on the dollar but also a comparison of recovery from traditional lenders.  For secured loans from a traditional lender they indicated a recovery of 28p on the pound where as for their secured loans they show a 40p on the pound amount.  Funding Circle believes these amounts have the potential to trend higher.

P2P lending is a great way for investors to generate above average returns – as long as they are willing to bear the risk.  Funding Circle shows they are able to work both sides of the equation by striving to create an environment that aids the borrower while providing adequate assurances for the investors.

Sponsored Links by DQ Promote