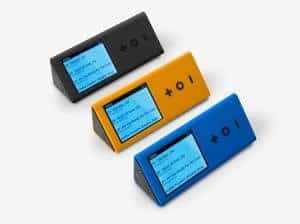 While the crowdfunding campaign on Kickstarter was pretty amazing the equity crowdfunding campaign on Crowdfunder has rocketed through expectations.  PonoMusic, the vision of famed recording star Neil Young, took only 7 days to raise $6 million in equity.  On Kickstarter it took 35 days to raise $6.2 million.  While backers lined up to fund Pono Music on Kickstarter, pushing it to the 4th most funded campaign on the rewards based site, investors on Crowdfunder have rushed purchase equity in the small company with an average investment amount of $12,000 per person.  Minimum investment amounts were set at $5000 per individual. According to a release, investors include the COO of Oculus and CTO of Amazon.  The campaign remains live on Crowdfunder today as the number of followers grows.
Neil Young conceived of the idea behind PonoMusic as he was disappointed by the experience and quality of audio in the digital age of highly compressed, poor quality music files such as MP3s. There has been a resurgence of interest in analog vinyl records among music lovers desiring an undistorted sound. The nuanced experience most vinyl delivers hasn't been convenient or portable. PonoMusic was conceived to fill this void by using a lossless CODEC combined with a complete digital ecosystem, including their premium portable music player.  Pono is supported by the major music labels so when the player hits the hands of initial backers this coming October they will be ready to go.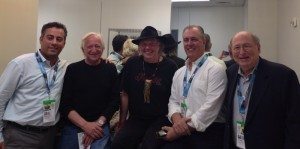 Neil Young was quoted on the concept;
"Pono is an artist­driven movement to rescue music and the art of recorded sound for posterity. It's about the people who make the music, about the way it sounds to the artists when they record it in the studio and about preserving the original sound created by artists over the history of recorded sound. It's also about fans hearing what we hear and that hasn't happened in a long time. We wanted music lovers everywhere to be a part of this from the beginning and have an opportunity to help us launch this new music ecosystem into the world, together."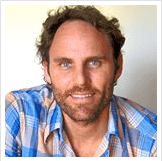 Says Crowdfunder's CEO, Chance Barnett;
"We're thrilled to be collaborating with Neil and his team to democratize the opportunity to invest in PonoMusic. Neil and his team get it; that's why they're going the route today's most successful startups follow: first validating their business through pre­sales of their product on Kickstarter, then raising investment via our leading equity crowdfunding platform and rapidly growing base of institutional and individual accredited investors."
Today there are few competitors in the market with estimates to market entry being at 18 to 24 months. An established tech giant may see Pono as an acquisition target at some point in the future.  Sometimes it is better to acquire than create when an established player is already there. Pono wants to be that established player and they are only months away from hardware release and a digital music store claiming over 2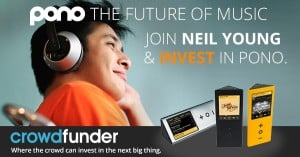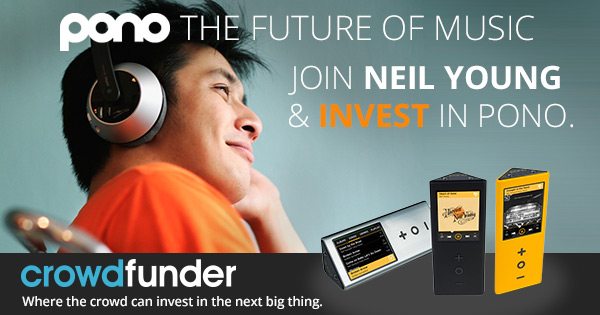 million titles with over 30x more sound data than typical MP3 files.
The campaign remains live on Crowdfunder in an overfunding mode.  As of yet there is no update by the issuer as to how much more they will accept.  With a pre-money valuation set at $50 million, the campaign set an initial hurdle of raising $2.5 million – an amount that was quickly bumped up to $4 million.
Have a crowdfunding offering you'd like to share? Submit an offering for consideration using our Submit a Tip form and we may share it on our site!