In a release, real estate crowdfunding platform Patch of Land has stated their site has grown 275% in just the past 3 months.  The volume of loans pre-funded, then syndicated through the e-commerce powered platform, has grown substantially as real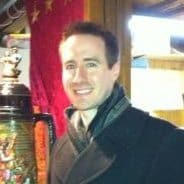 estate crowdfunding "continues to make waves in the real estate and financial industries".
"As Patch of Land continues to scale, our main objective is to keep providing top notch services for borrowers seeking funds for rehabilitation and construction projects, as well as offering quality cash-flowing opportunities to every accredited national real estate investor on our platform", says Jason Fritton, Co-Founder and President.
Patch of Land also shared additional data points from the past nine months:
30 Projects in 7 States
Over $6.7 million in Funded Loans
2500 Investors
65% Investor repeat rate
$20,143 average investment amount
Over $1.1 million capital and interest returned to investors
12.7% blended average rate of return for investors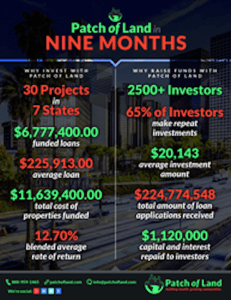 The company stated they have gained traction with both residential real estate professionals who require funding for property rehabilitation across the country, as well as with investors who quickly fund the residential real estate investments on their debt-based crowdfunding platform.
Fritton continued;
"We stand by our motto of building wealth and growing communities. We are committed to bringing bringing ease, efficiency, access and transparency to the process of real estate private lending, and participating in the growth of the online marketplace lending industry."
Sponsored Links by DQ Promote