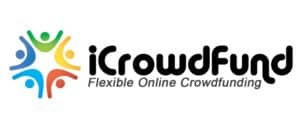 The developers of the charity fundraising site, iDonate.ie, have launched  a new crowdfunding site:  iCrowdFund.ie.
Created by Western Webs, the new rewards based site will differentiate itself from competitor  Kickstarter by allowing both all or nothing or "keep it all" projects.  Keep it all is similar to flexible funding campaigns utilized by Indiegogo.  The statement by man agent indicated the initial release of iCrowdFund supports donation and reward based crowdfunding with an Equity crowdfunding system under development.  Crowdfunding is currently unregulated in Ireland and consequently the equity option is not yet available.
Western Webs' iDonate.ie, is stated to be the largest charity fundraising website in Ireland, supporting over 600 non-profits, with the assistance of over 18,000 registered fundraisers. iDonate.ie has raised over €3 million for Irish charities since it was set up in 2012.
Paddy Coyne, owner of both platforms, explained how the site works: 'A project owner registers with icrowdfund and a campaign page is set up with a target amount to be raised. The campaign is then advertised through social media and any other channel open to the project owner and people contribute over the course of the campaign. At the end of the project the system processes the credit cards of those who donated and the funds are transferred.'
The site will use 'Stripe', an Irish owned system developed to process credit card payments online and on mobile apps. There are no set up charges for projects on icrowdfund.ie. A commission and transaction fee is charged at the end of the campaign.
Coyne says that the 'reward option is of particular interest to service or hospitality business owners. Business owners could offer a reward in the form of voucher or membership to those subscribing. Those subscribing to the campaign are in effect a large marketing team, as it is in their interest that the project succeed.'
Coyne explained The Central Bank of Ireland is currently monitoring the situation on equity crowdfunding.