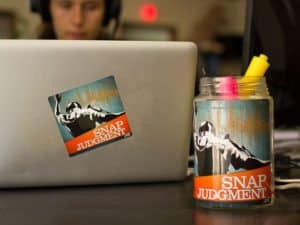 Snap Judgement fans, rejoice! With only four days left until its crowdfunding campaign on Kickstarter comes to an end, the popular NPR show surpasses its $150,000 goal and recently hit $171,510 thanks to 3,945 backers.
As previously reported, the host and executive producer of public radio exchange and NPR's Snap Judgement, Glynn Washington took to the crowdfunding giant's platform to raise funds for the show's sixth season. It is described as "the" smoking-hot show from NPA about the decisions people make that change EVERYTHING. Raw, intimate, and surprising, host Glynn Washington explores real life drama that will leave you breathless. The show also offers "lush' soundscapes that are paired with DJ driven rhythms drop listened into the heart of each story.
Washington shared, "Snap ain't free. If you want the biggest, baddest, Season Six of Snap – complete with Storytellers, Sound Designers, Writers, Musicians, Fire-eaters, Raconteurs, and Regular Folk – time to pony up. Put your money where their months are and get great gifts along with the stories that rock your world. Let 'em know you live your story… with a BEAT."

"Snap was born of love, and we have balanced on a razor's edge since the very beginning. But Snap can't snap without the power on. Your contribution goes directly toward making the most amazing season of Snap the world has ever known. Together, we've surmounted the obstacles before, and created the first five seasons of Snap. Let's do it again."
During a recent update, Washington announced, "Now, we're stretching for $200,000 in order to make some much-needed upgrades for our tiny team. We hear you! Snappas want MORE cities for Snap LIVE, DEEPER stories, and more KILLER beats — and we aim to please! Additional support will allow us to create 'Snap BEATBox,' letting listeners inside the mix — to know exactly what songs you're hearing. It will also allow us to send you original music mixes!"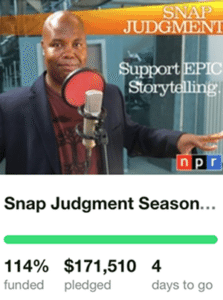 "We also want to hire a fiction editor, to bring you more of the stories you dig.  And I wanna send Snap Producers after the story — no matter where the story goes. Your support makes it possible for Snap's "Little Engine That Could" to find and craft stories that no one thought were possible. Let's make our mark in Kickstarter history to grab the attention of those traditional radio stations to make even more magic happen.
Among rewards that were recently unlocked, include $200 Personalized Bedtime Story, which was noted to be, "Created by the Snap Judgment team, with YOUR name (or any name you want) in it!" The Snap Judgement team will record an original story backed by an original show beat. There'll be nothing else like it in the world! The team will also give you the Snap Judgment ringtone and video download of the Best of Snap Judgment LIVE Performances.
The campaign is set to close on October 10th.
Have a crowdfunding offering you'd like to share? Submit an offering for consideration using our Submit a Tip form and we may share it on our site!