On August 9th, the "mysterious" comedian behind the Facebook Page, God, launched a Indiegogo campaign to raise funds for billboard advertisements that support God and his love for gay people in the hometown of infamous religion organizations, Westboro Bapitst Church. During its final days on the crowdfunding platform, the project has hit over $100,000 from 4,442 backers.
As previously reported, the "church" is notoriously known for its hate protests at funerals, along with equal rights events throughout the U.S. They carry signs that have often read "God Hates Gay People." Now, organizer of the campaign and God Facebook page is wanting to approach the organization with love.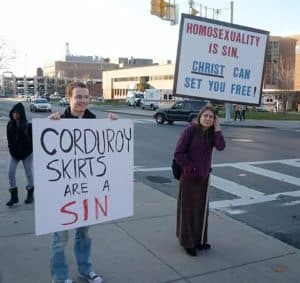 The organizer wrote, "This project is extremely valuable to the world. When people see villains such as Westboro existing in the world, and no one [is] doing anything about it, it disheartens them greatly. They lose faith in humanity and in the world. This has all kinds of negative consequences across all life. The message we are sending transcends their particular issue."
"Some people will argue that it better to ignore the bigots, that all that Westboro wants it more attention. That it's better for good people to do nothing, to ignore the evil and just wait for it to go away. While I respect this opinion, I contend that evil is only allowed to exist because good people do nothing.The time has come for good people to fight back. With love! It's time to send a message to these bigots. You want to come to other people's funerals to promote hate? We'll come to where you live to promote love!"
Since its launch, the project has raised enough funds to put a billboard officially near Westboro Church's headquarters in Topeka. According to Religious News (RNS), The new billboard, with a cartoon God peeking out of white fluffy clouds and a giant rainbow, went up on September 8th, more than a month ahead of schedule.
'God' just trolled the Westboro Baptist Church so hard: http://t.co/L2BZ1L5jyt cc @thegoodgodabove pic.twitter.com/4CzAUXAiFc

— Mashable (@mashable) September 8, 2014
One of Westboro's official Twitter accounts reported that the church's members have already brought their signs to protest in front of the billboard. They also added this message to the front of their church sign:"Billboards and rainbows do not change: God hates f*gs! Romans 9:13."
While the $50,000 was given to the billboard efforts, the campaign organizers revealed other funding goals, including the following:
At $60,000: The Trevor Project, an organization that provides crisis intervention and suicide prevention for LGBT youth, received $10,000.
At $70,000: Bus ads in Topeka were purchased
At $80,000: A $10,000 donation was made to the National Alliance to End Homelessness
Religious News (RNS) also reported that the project doubled its efforts just two days after announcing that there is space for another billboard, this one in Salt Lake City, the heart of Mormon country. Unfortunately the billboard companies in Utah have turned down the campaign's request for space at this time. Dewey Reagan, general manager of Reagan Advertising, stated he would not allow the campaign on any of the company's 2,000 billboards due to the fact that he didn't know which landowner would allow the advertisement on their property.
However, Topeka's Lamar Advertising has noted to be easier to work with. The company's spokeswoman, Allie McAlphin noted, "We support the First Amendment right of advertisers and believe that it is in the best interest of our company and the communities we serve to accept advertising copy openly, subject only to requirements imposed by law and reasonable standards of fairness and decency."
The campaign is set to close this Wednesday (October 8th).
Have a crowdfunding offering you'd like to share? Submit an offering for consideration using our Submit a Tip form and we may share it on our site!