CrowdfunderUK is rolling out UK-wide campaigns after the success of the campaign for Crowdfund Cornwall. The next four cities immediately benefiting from a region-specific campaign rollout will be Bristol, Manchester, Liverpool and Edinburgh.
Crowdfunding projects across the cities have already raised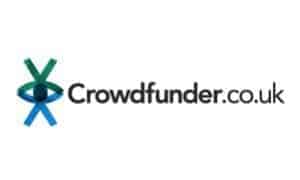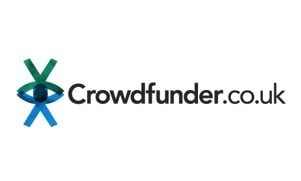 substantial funds in their respective areas and it's expected that the individually focused campaigns will amplify the economic impact in each area. To date, Manchester has crowdfunded over £92,000, Edinburgh, £50,000, Liverpool, £35,000 and Bristol, £44,000.
The Crowdfund Cornwall campaign has raised over £400,000 for local communities, business, projects, charities, social enterprises and events in the last 15 months alone. Proving the success of Crowdfunder's pilot, regional campaign, stats show that Cornwall now has twice as many successful crowdfunding projects per capita than the UK average – three times as many when London figures are excluded – according to data from The Crowdfunding Centre.
See infographic below: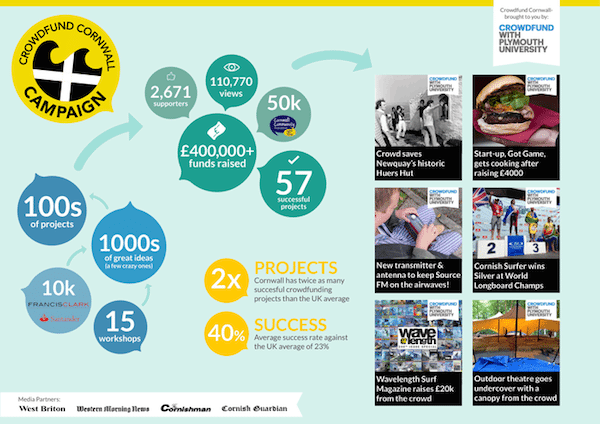 Data also shows that crowdfunding projects launched in Cornwall are more likely to be successful with success rates of 40% compared with the UK average of 23%. This is largely due to the Crowdfund Cornwall campaign, which was launched in 2013 and sponsored by Plymouth University. The aim was to enable grassroots Cornish ventures to unlock funds from the crowds around them, promoting economic growth and building sustainable communities. The campaign has been hugely successful, benefitting numerous groups and individuals and encouraging a growing groundswell of enthusiasm in the county for this new way of raising money.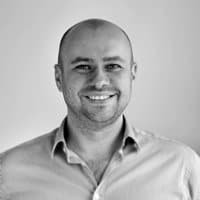 Managing Director of CrowdfunderUK, Phil Geraghty stated,"City-based crowdfunding is the future and Crowdfunder is proud to be leading the way. Across the UK we want to bring together local crowdfunding projects, universities, councils, brands and local supporters to make great ideas happen.

Barry James, founder and CEO of The Crowdfunding Centre, noted, "It's all in the data –  Crowdfund Cornwall has clearly made a real and significant impact by enabling communities to come together to fund their own ideas and businesses."

"It's a stunning success, not just for them, but more importantly still for Cornwall and the UK. If, as it seems, this innovative regional crowdfunding model can be replicated the economic and social benefits will multiply as regions, towns and cities across the UK reap the benefits of a new, entrepreneurial, eco-system."

Sponsored Links by DQ Promote