Atlas Wearables, a wearable device that tracks the user's body on the x-, y- and z- axes as well as detects and logs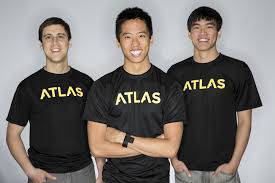 exercises performed by users, has closed its campaigns on SeedInvest, Fundable  and Crowdfunder.  After successfully raising over $629K on its pretail Indiegogo campaign, the Texas-based startup has already secured $1.1 Million of its $1.4 Million seed funding goal.
The company promises that Atlas is not just an ordinary pedometer.  In addition to its waterproof touchscreen measuring heart rate,  "Atlas is a fitness monitor that identifies your exercises, counts your reps and sets, calculates the calories you have burned and evaluates your form. Atlas measures your success; all you have to do is work out. Atlas is smart enough to tell the difference between push-ups and triangle pushups. Our machine learning algorithms can intelligently detect exercises in 3D effortlessly," comments the startup. No need to keep checking the phone, Atlas efficiently tracks users' workouts.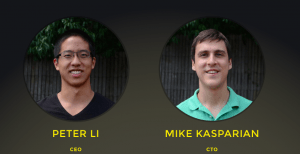 The Atlas team is helmed by Co-Founders CEO Peter Li and CTO Michael Kasparian. Li brings experience from developing a motivational platform for students and faculty at Johns Hopkins to lose weight and gain muscle. While working on the project, according to the Indiegogo campaign, "Li realized how valuable tracking and analyzing data was but was frustrated by the lack of adequate solutions." Kasparian had a similar experience to Li, but in a different context. At Philips Healthcare, Kasparian learned how data could be used to save lives when designing circuitry for defibrillators. Alex Hsieh, the former lead Software Engineer at Atlas, left the company to work for Apple. Together with a team that boasts experience at zoetis, Google and HomeAway,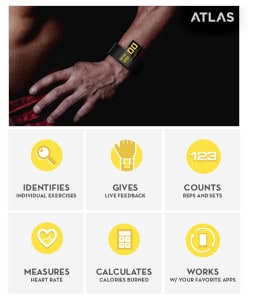 Techstars Atlas Wearables is on a mission to help users:
 "The technology inside Atlas adds an incredible amount of context to your workout. Not only do you have a complete digital log of your specific exercises, Atlas enables you to see how your body is affected. You can see how rest affects each exercise, how quickly your heart recovers, the quality of your form and more. Plus, you can measure your explosiveness, find your max thrust and improve your workouts. The keys to success include our go to market strategy, strategic partners, and a solid product and UX."
According to the startup, raised funds will go toward adding key talent to the growing Atlas team, as well as Atlas' Motion Genome Project, research that classifies and analyzes millions of routine movements which will eventually provide the technical foundation for future product releases.
__________________________________________________________________________
Have a crowdfunding offering you'd like to share? Submit an offering for consideration using our Submit a Tip form and we may share it on our site!