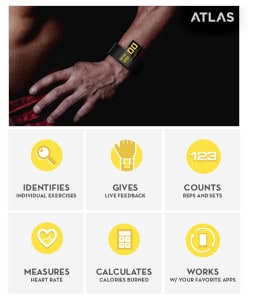 So rewards based crowdfunding has quickly become fertile ground for proving market viability of the next cool product while raising some cash.  There are more than a few companies that validated their product via Kickstarter or Indiegogo and then quickly were acquired or caught the attention of a needy VC.  Well now it appears that crowdfunding is also becoming a proving ground for talent as well.
According to a recently updated LinkedIn page, Apple has hired an engineer from Atlas,  "The First Fitness Tracker that Actually Tracks Your Workout".  Atlas ran a pretty mean crowdfunding campaign on Indiegogo earlier this year – closing at over $620,000 on a goal of $125K in March.  
Alex Hsieh, the former lead Software Engineer at Atlas, who has an impressive degree from Johns Hopkins, is on the move over to Cupertino. Now if I had to guess – since Alex has some experience with a fitness tracker that calculates calories burned, tracks activity and all sorts of other cool things – perhaps he is sharing his experience with the software elves at Apple.  Everyone in the galaxy – and a few of those beyond – expect Apple to transform their iVapor to an iWatch at some point this year and Tim Cook has been soaking up a lot of wearable tech talent over the past 24 months.  It would appear that Alex has received his draft orders to join the team as the 2014 launch date nears.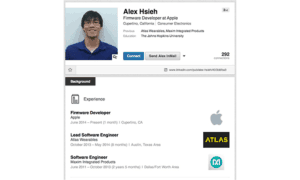 The Apple disciples at AppleInsider interviewed the CEO of Atlas a couple of months ago and he talked up Alex's skills stating;
"…the device's accuracy is driven in no small part by software powering the internal sensor suite; software Hsieh helped develop. Specialized algorithms based on data collected from personal trainers and fitness gurus are applied to raw data from motion and heart rate sensors, allowing Atlas to automatically determine what exercise is being performed, count reps and sets, calculate the calories burned and even evaluate form.

Combining extremely granular movement tracking with a pool of data from other users, Atlas can reportedly help users reach their fitness goals faster. Li touts the device as the first wearable that can actually track everything. "
Wearable tech is super hot these days and much of the innovation is coming from crowdfunding platforms.  Think Pebble Watch (don't think Samsung watch thing) – one of the most successful crowdfunding campaigns of all time.  Anyway crowdfunding is a huge validation tool for many things but we are officially adding proving employee talent to the list.
Have a crowdfunding offering you'd like to share? Submit an offering for consideration using our Submit a Tip form and we may share it on our site!