New Bond Facilitates Developing World's Students' Financial Access to Higher Education
Prodigy Finance, the leader in international student lending, announced the launch of a $25 million Education Note in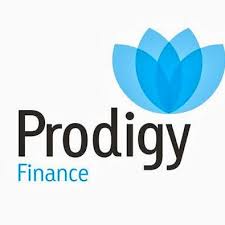 partnership with the Credit Suisse Impact Investing and Microfinance team, led by Patrick Elmer, Philanthropy Services & Responsible Investment.  Development of the Prodigy Finance/Credit Suisse Education Note was initiated at the 2014 Global Impact Forum in Zurich, the GIF exists to find practical solutions to the world's most pressing social challenges.  During its annual two-day conference, social entrepreneurs and impact leaders meet and make presentations to a wide range of potential partner. 
The new bond – the first of its kind – focuses on investment in higher education, in particular the world's best MBA programmes.  Prodigy Finance's successful peer-to-peer lending model offers affordable loans to talented international students at top business schools via funding provided by a community of alumni and other investors.
Prodigy Finance CEO and co-founder Cameron Stevens commented: "The partnership with Credit Suisse allows us to turbo charge our reach among high net worth and family office investors, complementing our community funding efforts and bringing diversity and scale to our programmes. At least 75% of students assisted will be from emerging markets, driving a great combination of social purpose and sound financial returns."
According to Prodigy, the broad scale impact of the bond is centered on providing financial access to higher education, particularly for students from the developing world (c. 75% of Prodigy Finance's portfolio), who otherwise would find it very difficult to secure funding.   U.S. Schools such as Columbia and Michigan are receiving funds from the bond, and Prodigy Finance has been working since 2007
to connect international students (1200 students from 90 different nations to-date) with hard-to–secure MBA loans to attend the world's best business schools. Each of these parties

realizes fundamental value from working with Prodigy Finance over historical means of borrowing, recruiting or loaning. Aside from direct benefits to individual students, this funding also encourages the development of a global network of talented business professionals and addresses skills gaps in emerging markets.  Nearly two thirds of Prodigy Finance's developing world students go back to their home countries after graduating from business school.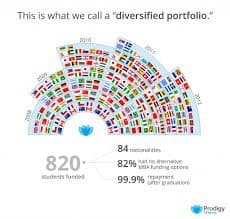 Prodigy Finance has existing programmes at some of the world's top business schools, including INSEAD, Columbia Business School, London Business School, Saïd Business School (Oxford University), Manchester Business School.
The partnered Education Note aggregates multiple underlying Prodigy Finance bonds based on particular schools with a focus on emerging markets. The bond has an expected performance-based IRR of 5-6% and a weighted average life of 5.5 years. The Note was quickly over subscribed, highlighting increasing demand for blended value products and the likelihood that, in the future, these could be considered as standard portfolio products.  This institutional funding commitment from Credit Suisse will allow Prodigy Finance to scale its available programmes to help thousands of students access the funding they need.
Have a crowdfunding offering you'd like to share? Submit an offering for consideration using our Submit a Tip form and we may share it on our site!