On Wednesday (November 5th), former production assistant of The Dark Knight Rises, Lauren Fash, debuted her crowdfunding campaign on Kickstarter to raise $45,000 for a new film called WoW MoM – A Documentary About Cancer & Gaming.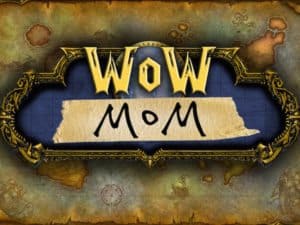 The description of the new documentary reads, "In 2010, Terry Bolt was told she had six months to live after being diagnosed with Neuroendocrine Tumors (NET)/Carcinoids,  a rare and often misdiagnosed form of cancer that was responsible for the death of Steve Jobs. She began playing World of Warcraft as way to cope, and her daughter Andie Bolt, a stand-up comedian, realized that there was a story to tell: many people in the online gaming community play as an outlet to deal with illness, trauma, stress and loss. WoW MoM the documentary was born!
"Centered around gamer/cancer patient Terry Bolt and her relationship with her daughter, Andie Bolt, WoW MoM shines a light on the positive effects of the online gaming community while at the same time raising awareness for NET/Carcinoids and helping erase the stigma around talking about cancer.   With the fantastical backdrop of World of Warcraft, our film dives into interviews with gamers and cancer patients alike, all of whom have used this unorthodox method of therapy to deal with hardship. Appearances include: Clare Grant, [actor/comedian] Chris Hardwick, Michele Morrow, Holly Conrad, Chloe Dykstra, Fortune Feimster, Greg Fitzsimmons, Adam Ray, AALG & Jarod Nandin."
Explaining why the documentary is so important, its director, Andie Bolt shared, "Two years ago on the Nerdist Podcast, Chris Hardwick asked what I talk about in my stand up. At that time my Mom was using World of Warcraft to cope with her cancer and I was telling jokes on stage as a way to deal. Chris Hardwick, to my delight and gratitude, came up with a brilliant plan: 'We have to send your Mom to BlizzCon!' My mom heard the Nerdist podcast and was bursting with excitement.
"At the time, Mom was about to start a new clinical trial and this felt like a sign: I needed to stay with her and be part of this journey. After Mom got some rest, I told her the rest of the great news: 'We're going to BlizzCon and I'm going to film it! We are going to tell the world about your cancer so that maybe other people won't go undiagnosed like you.' Her face lit up up as she realized by sharing her story of her battle with NET/Carcinoid Cancer, others may not have to suffer with a delayed diagnosis.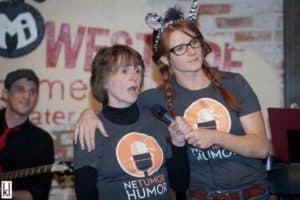 "As I started telling this story, it was obvious that this project had much more to say than could fit into a web series. We needed a full-length film to tell these stories and accurately describe all the fantastic people I've met on this journey. Making a project you really, truly care about causes people to come out of the woodwork; beautiful, kind humans who want to impact others in a positive way.  We weren't just playing Warcraft, we were making a documentary, but it felt like I had my own guild. Everyone had their roles and we were raiding through on the tiniest of budgets.
"This crew was giving everything and even at complete exhaustion, giving more. We shot 17 hours worth of footage at Blizzcon on two cameras alone with the entire crew crammed into one hotel room. Not one person complained. When I tried to pay my sound operator he said, 'Donate it to your Mom's hospital.' Needless to say, I've cried a lot making this. Lots of happy tears! No one has ever cared this much about something I was making. This isn't just my movie, it belongs to all of the beautiful people in front and behind the camera."
Rewards include:
Eternal Gratitude: Provides inside scoop and updates
Personal Voicemail: By Andie Bolt
Signed Poster: By Chris Hardwick, Andie Bolt and Terry Bolt
L.A. Premiere: 4 tickets to the premiere
Executive Producer: Will be provided 6 tickets to the L.A. premiere
Since its launch, the campaign has raised nearly $10,000 from close to 140 backers. It is set to close on December 12th.

Have a crowdfunding offering you'd like to share? Submit an offering for consideration using our Submit a Tip form and we may share it on our site!

Sponsored Links by DQ Promote