On Wednesday morning (November 19th), Finland-based, Jolla, launched an Indiegogo crowdfunding campaign to raise $380,000 for its new self-titled tablet. The unique tablet has been dubbed by the company as the world's "first crowdsource tablet" to surface. Within only hours of its debut on the crowdfunding giant's platform, the campaign raised well over its initial goal and is currently at $800,000.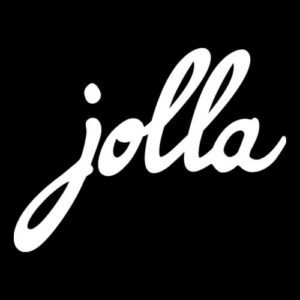 The Jolla Tablet's Sailfish OS is declared as an operating system that no one has ever experienced. It is independent and has been built the way it has. The company noted, "It's our company policy that we'll never sell or share your data with anyone. There are no back doors or anything third parties could use for monitoring your activity. Together with the open source community, we're continuing to strengthen our privacy capabilities at every opportunity."
The tablet's features are:
Multitasking: Sailfish OS shows all the running apps conveniently in one single view. The user can control all apps directly from the multitasking view.
Super-Fast Interactions: The tablet works with the user's natural hand movements through gestures. No pushing of tiny buttons is required.
All the Apps the User could Possible Dream Of: Sailfish OS has the capability to run Android apps.
TechCrunch reported that Jolla released its first device, a smartphone, a year ago in Finland and has gone on to expand the number of markets the phone is available in Europe and Asia, along with adding India and Russia in the recent months. The Jolla Tablet is aiming to square up to the iPad Mini 2, with a 7.9-inch screen, sporting a resolution of 2048 x 1563. Inside, it's powered by a 1.8GHz quad-core processor, has 2GB of RAM and there's a 5MP rear camera.
Jolla Tablet's comparison below: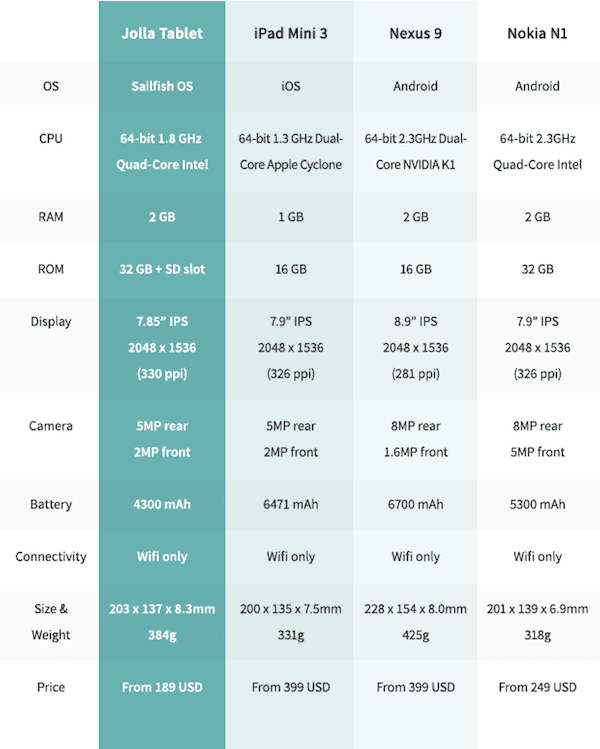 Co-founder of Jolla, Marc Dillon, took to the stage at the Slush conference in Helsinki to share details about the tablet and its campaign. "We're going to continue the Sailfish story forward by taking our great multitasking experience and our emphasis on privacy and usability and gestures, and along with our community we're going to build the tablet.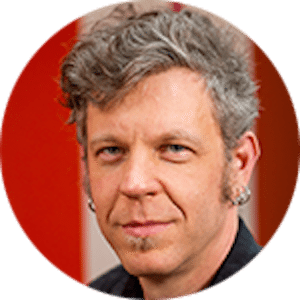 "There will be a continuation with the way we have worked with together.jolla.com so we're going to extend this so that the people who are participating in the campaign will be able to help to decide what kinds of features and things will end up on this tablet. It's going to be a very high end specification… it's basically as good as a display as you can get in the market today."
During a recent interview with the media outlet, Dillion stated, "Taking our multitasking experience into a larger form factor is really exciting to me. The kinds of things that people may ask for during the course of this campaign and the course of the development with our initial backers would be like – what I would expect is – you can watch the game at the same time as you can follow and update your social media. Maybe have Twitter and Facebook open at the same time as you're able to watch the game."
"Being able to take this multitasking to an experience that's even better than what you have on a desktop computer.  The opportunity that we have here… if you think about having several of those applications open at the same time and maybe even being able to size them differently. I think this is the kind of opportunity that we have here and we want to take feedback from our initial backers in order to see what kind of things are really important."
"The multitasking story — it's not even good on the desktop today," he added. "So I think we have a great opportunity there to make it easy for people to watch media or listen to music and engage with their social media and maybe even be browsing.
"It's difficult at the moment to find a good tablet that is not the Apple experience. And even that is very single task oriented… Apple took the tablet and made it something that was useful to people but still it's very limited. I think we can take it to the next level."
Those first and lucky 1,000 backers that managed to get the campaign first received the tablets for the price of $189, those who reached the project before it hit 2,000 backers were able to purchase the device for $199. The price now is $204 (for now.
In regards to when the tablets will be delivered, the Jolla team answered, "We aim to ship the first tablets in May 2015. Please note that the delivery date is subject to change. In any event, we will keep you updated on the schedule in our update emails."
The Jolla Tablet campaign is set to close on December 9th.
Have a crowdfunding offering you'd like to share? Submit an offering for consideration using our Submit a Tip form and we may share it on our site!