Onevest, an equity crowdfunding provider, announced the launch of Learn.Onevest.com, a free peer-to-peer learning platform where startup founders and early stage investors may discover curated videos and articles to become more successful in the startup industry.

"The mission of Learn.Onevest is to create an online learning community for entrepreneurs who are building startups as a tool to become high performing founders," Alejandro Cremades, Onevest's co-founder and CEO, explained. "It will also be a place where early stage investors can strengthen their foundation and knowledge of this emerging investment category to make educated investment decisions. Our goal is for Learn.Onevest to become the go-to learning platform in the startup community."
The platform has also announced that General Assembly, Draper University, Early Investing and The Founder Institute are launch partners and committed to creating fresh and valuable content to support the entrepreneur and investor communities."Community building doesn't happen by itself. We need dynamic sites like Learn.Onevest to leverage the wisdom of the crowd and ferret out the best ideas on a daily basis," says Andy Gordon, Cofounder of Early Investing.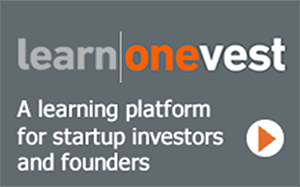 Learn.Onevest's peer-to-peer and expert-to-peer learning features include materials such as videos, webinars, and blog posts from leading entrepreneurs providing a platform for people and contributors to share their personal experiences and observations in an open learning environment.Interactive articles and videos where people can comment, review and ask questions in line with the text or down to a specific clip of a video as they are reading and watching.
Live chat between people that are viewing the same course content or webinar at the same time to engage the audience. Private chat available between people and registered experts, which can be used to contact other people and "Trusted Contributors" to ask their opinions and engage in discussion.
Onevest is considered as a one-stop-shop startup investing platform connecting early stage startups with accredited investors and giving investors a first look at the best, most qualified startups. Moreover, Onevest will also be the new home for CoFoundersLab's online co-founder matchmaking platform helping entrepreneurs build stronger core founding teams faster.