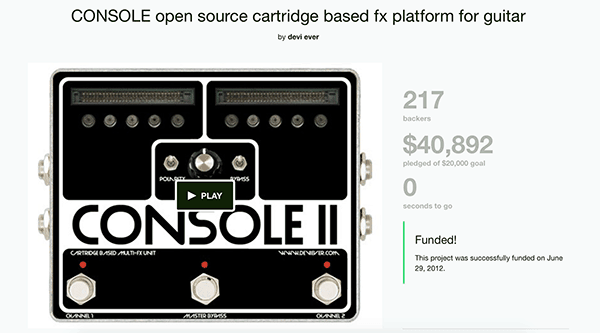 Back in 2012, a Portland, Oregon resident and game developer, known then as Devi-Ever, launched a Kickstarter campaign to help raise funds for her new project, CONSOLE: FX Platform. The open source platform allows guitar pedals to interact with a cartridge standard to create nearly limitless tonal possibilities at a fraction of the cost of owning a lot of bulky stand-alone effect units. Originally seeking only $20,000, the project managed to beat the initial goal and doubled funding, finishing at nearly $41,000.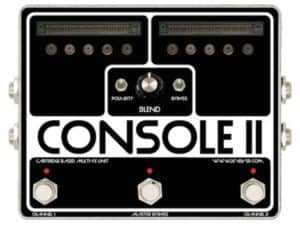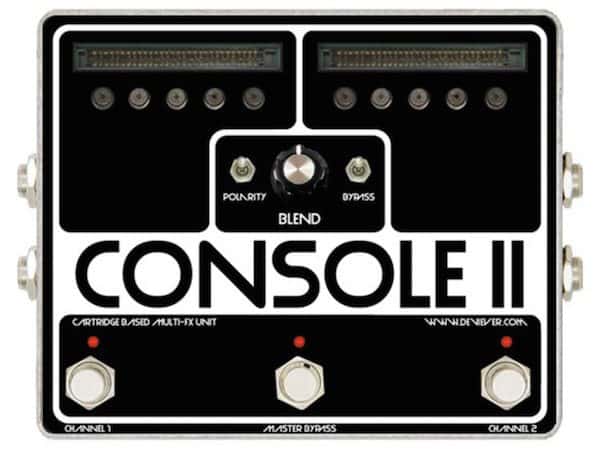 Unfortunately, backers of CONSOLE have yet to see the results of their support. Apparently Devi-Ever has a bit of an issue with the IRS, and has been unable to fulfill backer commitments.
Backers as may be expected – have not been pleased about this turn of events. Inevitable request for refunds have popped up on the campaign page, but there have also been claims of harassment from backers and critics swirling around the GamerGate saga.
According to a recent update, Devi-Ever stated;
"I want to be very clear about this since people seem to be having a very hard time paying attention to the previous updates. One, contact me at CONSOLEatDEVIEVERdotCOM from now on if you need to get a hold of me.

"Two, I can't pay back more backers till I've paid the IRS. I owe the IRS a lot of money. I –have- already paid back thousands of dollars before my IRS became a bigger concern, so please stop telling people I am taking the money and running for the love of f*ck. My Kickstarter backers have always been able to get a hold of me at CONSOLEatDEVIEVERdotCOM. Anyone who says otherwise is a troll or not paying attention. 

"Three, I'm not making a living wage yet (i.e. I can't afford health insurances, my health is failing in various aspects, so it's pretty f*cking important I can afford these things before paying more people back).

"Four, until I pay back the IRS and am making a living wage, I can not continue to payback Kickstarter supporters. Period. End of Story. I am still working hard to make a living wage and if you want to see this happen sooner, then stop enabling harassment of me, and start supporting my pixel art, music and video game development."
She also noted, "I am no longer going by the name Devi Ever, so please respect that as I have written here, and refer to me as Grace Lynn. This is not an attempt to run away from my debts, but a very personal decision."
Seems somewhat understandable… Until it was then claimed on Reaxxion that she decided to donate Kickstarter funds to an organization known as Feminist Frequency, which is described as a web series that critically explores the representations of women in pop culture narratives.  Allegedly this decision was made instead of possibly paying her supposed IRS debt or perhaps refunding backers.
Reddit users shared "Grace Lynn's" alleged reaction to those questioning her motives, eloquently stated simply, "Anyone who is pissed I donated to @femfreq instead of using it on my IRS / KS debt can suck my d*ck…."
"Grace Lynn" then shared via twitter:
It just occurred to me… anyone who can look at my tax debt, my failed kickstarter, and think I am well off, don't know sh*t about money…

— Grace Lynn (@PixelGoth) December 4, 2014
Venting more frustration out, Grace posted another update on Kickstarter, titled "Sue Me", and stated,
"This is not a joke. I want this to be over with. People are now organizing a harassment campaign against me, enabling people not even involved in this kickstarter including a stalker who has been harassing me on a daily basis for three years."

"I have no money to give anyone. I can't even pay for my own medical coverage. I just want this over with. Please sue me. I beg of you. Take me to court. Have this all done. You won't get your money any f*cking quicker, but you'll ruin my life just like you want, and we can all be over with this. I just want the harassment to end. I'm begging you."
The next day, she asked that all backers need to login to see info about what's next. She shared, "As you have seen by now, I am facing a harassment campaign against me by people completely unrelated to this kickstarter (and more specifically related to gamer gate, look it up… it's a f*cking nightmare), and it just doesn't make sense for me to continue to do the business of paying everyone back in the public eye when so many completely unhinged people are trying to use this as a way to genuinely hurt me."
It sounds like Grace, Devi, or whatever she goes with next, is having a tough go of things but hopefully she will find a better strategy of handling her financial woes and aggrieved Kickstarter supporters.
Have a crowdfunding offering you'd like to share? Submit an offering for consideration using our Submit a Tip form and we may share it on our site!