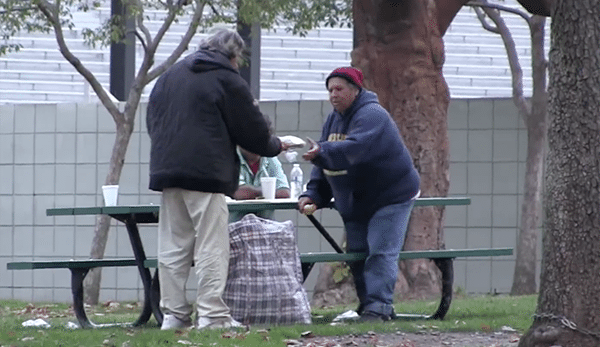 Seeking to help a homeless person in need, a California man by the name of Josh Lin has launched a crowdfunding campaign on Indiegogo to raise funds for Thomas, the man in the new video How Does a Homeless Man Spend $100.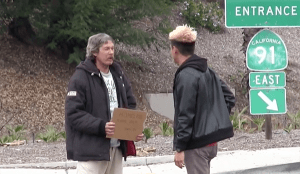 The video was created to see what a homeless man would do if he received $100. Would he use the money towards alcohol? Would he put it to good use? What would he do? Lin approached Thomas and gave him the money. Lin's cameras followed Thomas to a nearby liquor store and assumed that he was only purchasing items for himself. But Thomas proved them wrong by walking to a park and gave food to other homeless families.
While explaining the situation, Lin stated, "As you have seen from the video, Thomas quit his job to spend time take care of his sick parents. Unfortunately, he lost both of his parents in the last couple months due to cancer and kidney failure. Additionally, he lost his parents' condo and found himself jobless and homeless on the street. Although he has nothing at this point of life, he still managed to help others when he received something.
"We want to help him to get a fresh start. 1) Help Thomas to get a cellphone so that he can keep in touch with me, 2) Help him to either get his condo back or get him stay at a place that he can call "home", 3) help him to get a career that he deserves and start his new life again."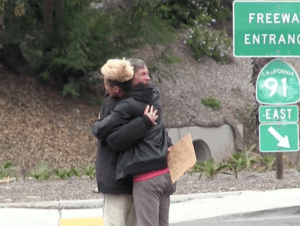 Originally seeking only $10,000, the campaign immediately reached its initial goal and within two days raised $54,815 from  close to 3,000 backers. Showing support for Thomas, backers took to the comment section of the project and wrote inspiration and supportive messages.
One backer stated, "This is what makes America the greatest county in the world! No need for government to try and get into every portion of our lives. We are the most generous, kind and loving country and when we see stories like this it is fellow citizens that support the most in need…not a bunch of politicians in DC."
Another shared, "So many of us are one paycheck away from homelessness. It is tragic that looking after one's parents can land someone on the street. Blessings to you, Thomas."
The project is set to close on January 21st.
__________________________________________________________
Have a crowdfunding offering you'd like to share? Submit an offering for consideration using our Submit a Tip form and we may share it on our site!