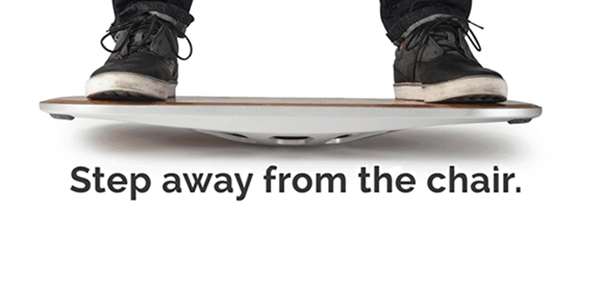 On Monday (January 12th),  former Brand President of Teva footwear and founder of the [GoPro] Mountain Games, Joel Heath, announced the launch of an Indiegogo crowdfunding campaign for the first product through his latest venture, FluidStance. The LEVEL by FluidStance aims to set the world in motion by offering products that keep people moving in situations and environments where they are typically static.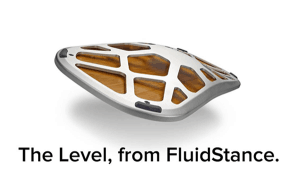 With the rise in use of standing desks, the LEVEL was created as a supplemental work tool to elicit subtle, constant movement underfoot. The LEVEL increases your range of motion and heart rate, while requiring the body to subconsciously fine-tune its balance while you work. The LEVEL enables you to move, but not too much to distract you – it's simple enough so that you can multitask while onboard, and the mind-body connection can actually help you flow through your tasks at hand.
Heath stated, "FluidStance was born from the idea that the body should move while we work, not just stand up. The body is meant to move, yet at work, in classrooms and even at home we chain our bodies down into a sedentary state in the hopes of focus."
According to the American Journal of Epidemiology, 86% of the American workforce sits for 7.7 hours per day. The negative impacts of our sitting habits – "sitting is the new smoking' – can be compared to the risks of cigarettes, leading to increases in cancer, heart disease, and depression. The LEVEL increases the body's heart rate on average of 15%* compared to sitting, and more importantly, it increases the body's range of motion up to 20x over simply standing at a desk. The amount of lower leg motion provided by LEVEL is similar to what you would experience while walking.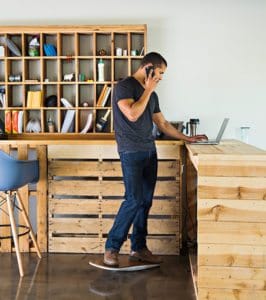 While developed primarily for your immediate workspace, a standing desk is not required for using the LEVEL. It can augment standing or sitting time during meetings, phone calls, or even at home. It is also beneficial for jobs that require extended periods of sitting time (for example call center operators, customer service professionals and security guards).
LEVEL's US patent-pending technology, engineering and design balances the ability to move with a simple yet beautiful aesthetic that fits in to any work environment – all without external power. Users can also adjust the LEVEL's stability, and change the overall aesthetics via interchangeable top decks, floating bumpers, and base plate options that will be available in the near future.
Doctor Geoffrey Gray of the Heeluxe Lab, which did the third party testing of the product, shared, "The Level allows for optimal amounts of 3D motion in the sagittal, transverse, and coronal planes. The amount of lower leg motion provided by LEVEL is similar to what you would experience while walking."
There are three different models of the LEVEL ranging in price from $289 for a manufactured LEVEL to $389 for a handmade LEVEL, with extra costs for optional personalization features.

Within the first few hours of its debut, the crowdfunding campaign has already raised over $20,000. It is set to close on February 26th.

____________________________________________________________

Have a crowdfunding offering you'd like to share? Submit an offering for consideration using our Submit a Tip form and we may share it on our site!

Sponsored Links by DQ Promote