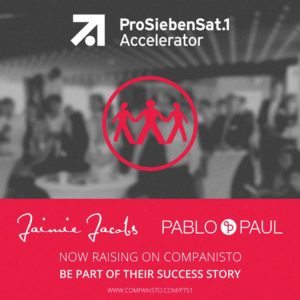 One of the leading equity crowdfunding platforms in Germany has formed a partnership with Munich based accelerator ProSeibenSat.1 (P7S1).  Information received from Companisto has announced that two startups from ProSiebenSat.1 accelerator will simultaneously launch crowdfunding campaigns on Companisto today (January 15).  The two young companies seeking investors on Companisto are Jaime Jacobs and Pablo & Paul.
P7S1 is an accelerator that focuses purely on entrepreneurs in the media sector.  The categories of startups include; entertainment, video games, video, mobile, adtech, and e-commerce. ProSiebenSat.1 is a mass media company that operates print, television, radio and internet.  The company operates across multiple European countries and generates in excess of €3 billion per year.  The accelerator program, launched in 2013, is an initiative designed to strengthen Germany as a location for entrepreneurs. All P7S1 startups receive a minimum of €25,000 in seed money when they enter the program.  The P7S1 startups also benefit from all offices, facilities and mentor guidance.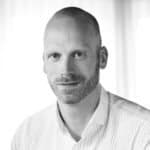 P7S1 MD Dr. Jens Pippig said of the relationship with Companisto;
"We believe that both start-ups have the right business model to convince the Companisto crowd and thus pave the way for fast growth," says Dr. Pippig. "Also this cooperation agreement emphasizes that the ProSiebenSat.1 Accelerator also supports its start-ups very actively after the end of the 3-month program in order to help them succeed."
Both companies see a complimentary combination of their strengths in various areas and may thus provide founders with ideal conditions for successful company development. Companisto has funded 37 different companies with approximately € 14 million from 25,000 registered investors.
 "Just like the ProSiebenSat.1 Accelerator, Companisto also focuses on strengthening the European start-up scene and on supporting the most innovative European start-ups," says Tamo Zwinge, managing director of Companisto. "In addition to providing financing, both Companisto and the ProSiebenSat.1 Accelerator support start-ups through their considerable expertise, marketing channels, and large networks. Thus, this partnership makes a lot of sense," Zwinge summarizes the project.
The two crowdfunding startups, Jaimie Jacobs and Pablo & Paul, are described below: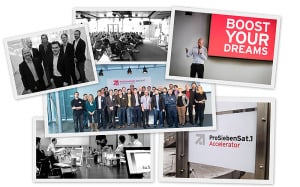 The Munich-based company Jaimie Jacobs specializes in customizable leather shoes. During the production of the unique shoes, Jaimie Jacobs uses its 20 years of experience in the production of high-quality leather shoes. Because of the two managing directors Florian Tremmel and Julian Peters, the team behind Jaimie Jacobs is very experienced, particularly in the key areas of marketing, sales, and production.
Pablo & Paul is a Munich-based platform for contemporary art that discovers, presents, and sells affordable artworks. The company's portfolio consists of the works of young and renowned artists. Pablo & Paul offers its large selection of artworks in its online shop and in select stationary stores. The company's goal is to enable people to experience art in a new and unique manner and to turn the purchase of art into an event.
"After the successful launch of our business model, we are now focusing on fast growth in order to expand our portfolio of artists and to increase our own popularity. We believe that the wide social interest in contemporary art will help us take this next step through crowdfunding," says Dr. Philipp Bode, managing director of Pablo & Paul.

Sponsored Links by DQ Promote