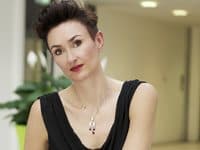 Outspoken finance executive Louise Beaumont has taken the UK finance sector to task once again.  Beaumont is the founder of Platform Black (now part of GLI Finance), an invoice trading site.
At a recent event she criticized the current environment as stifling for SMEs.  She is of the opinion that SMEs are too often under the false illusion that to secure funding they must turn to traditional banks. Beaumont, an advocate of new forms of finance such as equity crowdfunding and peer to peer lending stated;
"In reality, the alternative finance sector often has better resources and, more importantly, offers solutions and products which are better suited to the needs of high-growth SMEs. For example, providing flexible solutions to ensure funding is available when it is needed most, say to fulfil a big order or finalise a crucial deal."
She addressed the challenges of public awareness – something that will take some time – while lauding government support of new forms of finance;
"The industry and its stakeholders must collectively address the key issue of awareness and education. SMEs are too often under the false illusion that to secure funding they must turn to traditional banks as this is 'where the money is'. This perspective is at best inaccurate and at worst fundamentally detrimental to their future."

"Government support has been invaluable in boosting the growth of the sector and we hope that this will continue. The bank referral mechanism in the Small Business Bill will be instrumental in the continued growth of alternative finance, and the all-party support has been welcome. The focus must now shift to implementation and ensuring vigilance when monitoring the process."

"Similarly, the FCA has tackled the issue of regulation well, but they must ensure that this approach is consistent and sustainable. Key measures to date have centred on niches such as Equity Crowdfunding and Peer-to-Peer Loans. To secure the long-term sustainable growth of the sector we must move beyond this and develop consistent regulatory frameworks for the entire spectrum of alternative finance solutions. Perhaps only then will SMEs have the confidence and understanding to recognise the power of this type of funding in supporting their growth and sustaining the UK's economic recovery."
Beaumont highlighted the importance of SME's for economic growth in the UK. She believes structural and regulatory reform is needed to "ensure such businesses are able to access finance crucial to their development".