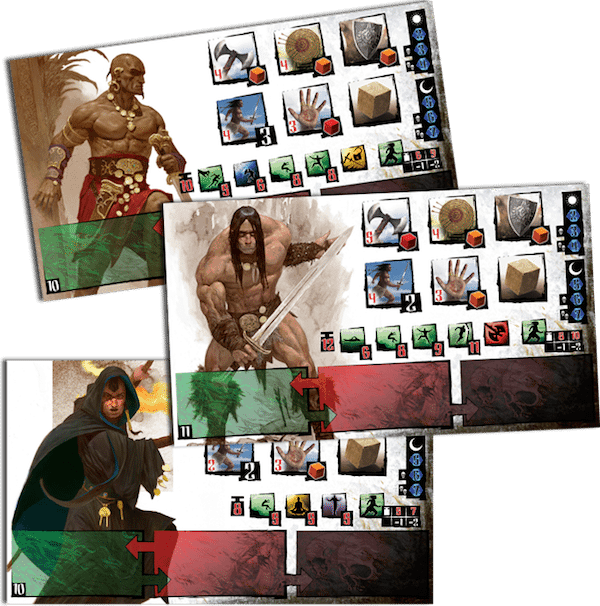 Ready to bring an old fan favorite, Conan the Barbarian, back to the market, Las Vegas-based Monolith Board Games debuted a crowdfunding campaign on Kickstarter last week to raise $80,000 for its new board game Conan. Within only a few days, the project surpassed its initial goal and is currently sitting at $878,000.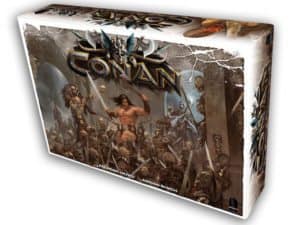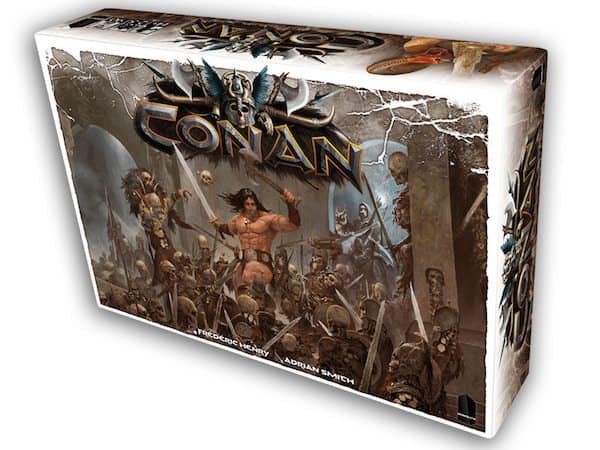 Conan is described as a miniature-based board games that pits on player, the overlord, who controls hordes of savage tribesman, no-good lowlifes and undead minions against 1 to 4 players who incarnate the legendary Conan and his fellow adventures. the Monolith team noted, "The gameplay is [asymmetric], as the overlord possess a large selection of models and objectives which are his own, whereas the brave heroes are played from a first person perspective, much like in a role playing game (RPG)."
The games contents include:
4 sets of heroes, leaders, and character sheets
6 allies
5 sets of monsters, hyenas and archers
15 sets of pict hunters, pirates, and guards
43 tiles
25 counterbases
1 set of overlord dashboard and turn counter sheet
Over 80 tokens
60 plastic gems
9 engraved dice
55 cards
During a recent update, the team shared the game's rules. "Now I know a lot of you are chomping at the bit for the rules PDF, and they are well on their way, but first I wanted to show you this, which should tide you over for a bit! Paul Grogan is the man behind Gaming Rules! A series of very informative, rules based videos for different games which are all about explaining the principles and basic rules of a game in 5 minutes.
Explaining why they created the board game, the team explained, "Apart from being huge fans of Conan and Robert E. Howard, we have been working in the gaming industry for many years now. Frédéric Henry is the author behind some incredibly successful games such as The Adventurers, TimeLine, CardLine and The Builders. Erwan and Loig Hascoët are the founders of Bombyx, a respected publishing company with many great games in their catalogue such as Takenoko, The Builders and Abyss.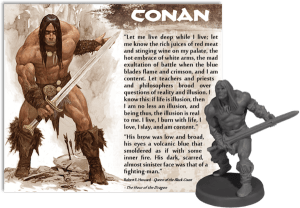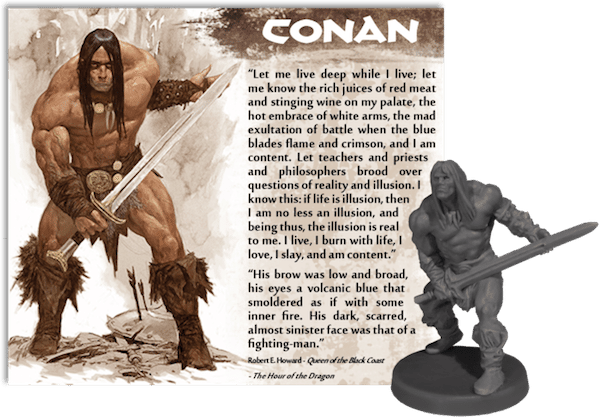 "Monolith was created so that we could make the game of our dreams: Conan. HeroQuest was a big part of our gaming culture as kids and we wanted to recreate the joy and immersion we felt for that game back then. For us, Conan was the perfect licence to bring these feelings to the tabletop once again, remastered in a modern game that drew from all the best advancements in art, sculpture and gameplay. So as to stay as true to Robert E. Howard as possible, we brought Patrice Louinet on board, a world renowned expert on this author's life and works. This gives us a degree of authenticity that is almost unheard of in a product like this. Patrice has approved all the contents of the standard and deluxe box sets as well as all of the stretch goals.
"Please note that some Kickstarter exclusive add-ons to the game will take inspiration from a few non-canon areas which were only mentioned by Robert E. Howard but not fully developed. Patrice was not consulted about those and thus they don't have his approval seal. This being said, we have always kept the spirit of Howard's work in mind and worked under the strict supervision of Paradox Entertainment, owners of the Conan property. We have strived to bring only the best, world renowned experts on board with Conan."
Conan's Kickstarter is set to close on February 11th.
___________________________________________________________
Have a crowdfunding offering you'd like to share? Submit an offering for consideration using our Submit a Tip form and we may share it on our site!