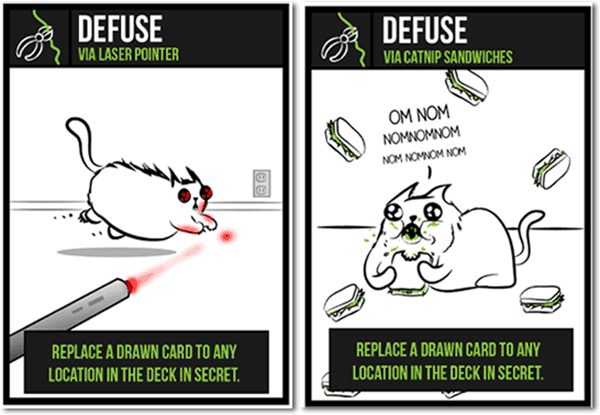 Hilariously Record-breaking! That's the best way to describe The Oatmeal's Matthew Inman's latest project. Earlier this week, Crowdfund Insider shared details about Inman partnership with Xbox's Elan Lee and Shane Small to create a new card game called Exploding Kittens. The funny game surfaced on Kickstarter and quickly surpassed its initial $10,000.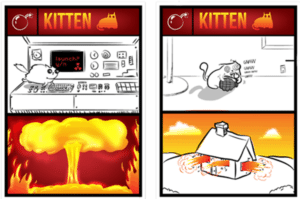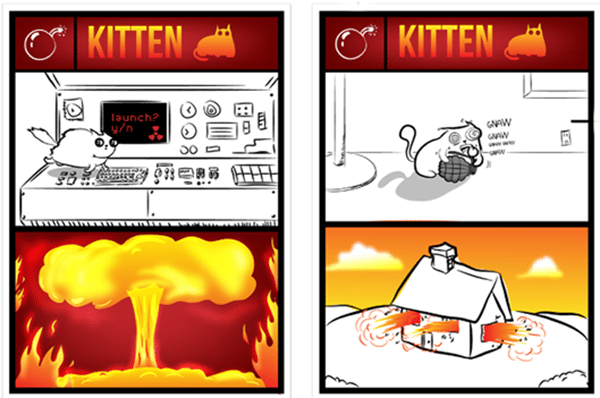 The game's description reads,"Exploding Kittens is a highly strategic kitty-powered version of Russian Roulette. Players take turns drawing cards until someone draws an exploding kitten and loses the game. The deck is made up of cards that let you avoid exploding by peeking at cards before you draw, forcing your opponent to draw multiple cards, or shuffling the deck.
"The game gets more and more intense with each card you draw because fewer cards left in the deck means a greater chance of drawing the kitten and exploding in a fiery ball of feline hyperbole."
Now, just a little over two days later, Exploding Kittens has taken Kickstarter by storm. Not only has the game scored well over $2.7 million thanks to nearly 71,000 backers, it has also snatched up various titles on the crowdfunding giant's platform, including #1 most funded card game ever.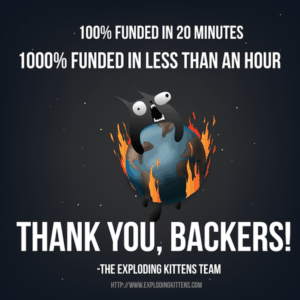 During a recent update, the Exploding Kittens team announced that the game has also achieved the following:
#11 most funded Game ever
#8 most backed campaign ever
#22 most funded campaign ever (that's right, even more funded than the freaking OCULUS RIFT!)
The team also revealed that there will be 56 stand-alone NSFW cards as well. They added, "That's enough to play an entirely raunchy game for 2 to 4 players OR to combine with any other deck and play with up to 8 sadistic kitten killers. We've been working hard to make sure we can handle the increased production and that the game can handle the expansion without sacrificing anything. We think we've finally figured it out.
"Both decks will fit in one box, and still come in under our needed shipping weight, so there's no extra charge."
Have a crowdfunding offering you'd like to share? Submit an offering for consideration using our Submit a Tip form and we may share it on our site!