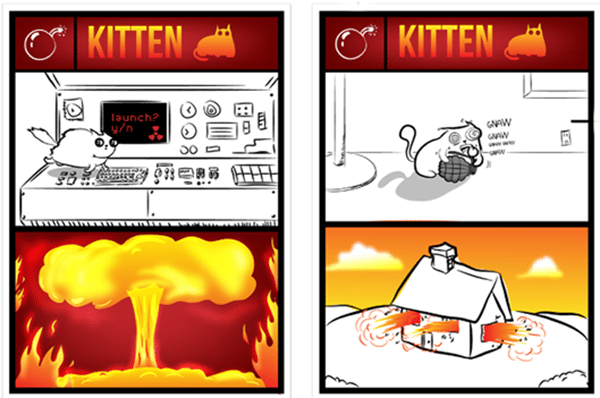 On Tuesday (January 20th), Matthew Inman, the creator of the popular website The Oatmeal, teamed up with Xbox's Elan Lee and Shane Small to launch a crowdfunding campaign on Kickstarter to raise only $10,000 for his card game, Exploding Kittens. Within only a few hours, the project not only received its initial goal, it has already scored over $730,000 thanks to 19,000 backers.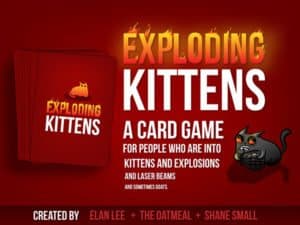 The game's description reads, "Exploding Kittens is a highly strategic kitty-powered version of Russian Roulette. Players take turns drawing cards until someone draws an exploding kitten and loses the game. The deck is made up of cards that let you avoid exploding by peeking at cards before you draw, forcing your opponent to draw multiple cards, or shuffling the deck.
"The game gets more and more intense with each card you draw because fewer cards left in the deck means a greater chance of drawing the kitten and exploding in a fiery ball of feline hyperbole."
During an interview with the Washington Post's Comic Riff, Inman shared details about the game and how it received its unique name. "Elan Lee and Shane Small created the game originally using a standard deck of playing cards. I suggested that we change the name to 'Exploding Kittens,' and add cards like unicorn pigs and Sasquatches and weaponized back-hair and a bunch of other weird 'Oatmeal'- inspired attack cards. From there, our little game was born.
"All joking aside, we actually sort of struggled with that. Originally the game was called 'Bomb Squad,' and instead of an exploding kitten, you'd spend the entire game trying to avoid the bomb cards. Players were constantly discussing, worrying and stressing about drawing the bomb. I thought it'd be funny if they were fearing a kitten instead, so we decided to call it 'Exploding Kitten.' The problem is, no one wants to blow up kittens, because that's mean, so we made the kitten cards blowing themselves up by running across keyboards and accidentally launching nuclear strikes."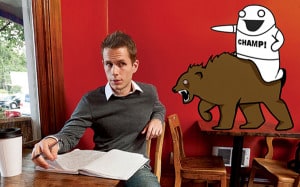 Explaining the game's rules, Inman noted, "You take turns drawing cards until one of you draws a kitten, at which point that player explodes and is out of the game. It's like Russian Roulette, but with cats. The problem is that game in its purest form isn't particularly fun, so we added a series of action cards that can defuse or avoid the kitten. It makes the game super-enjoyable because the longer you play, the great your odds of exploding, and the more intense the game gets. Plus, the cards are really funny and it only takes a minute or two to learn."
Those who help fund the project will receive various perks, including the game itself (56 cards), the NSFW deck, two signed decks, and even "the deck of legends." Its crowdfunding campaign is set to close on February 19th.
___________________________________________________________
Have a crowdfunding offering you'd like to share? Submit an offering for consideration using our Submit a Tip form and we may share it on our site!