A Detroit resident named James Robertson made headlines when the story about his rough work commute surfaced this week. The 56-year-old man walks from his home on Woodward Ave to catch his morning bus to Somerset Collection in Troy before he walks to his job at Schain Mold & Engineering in Rochester Hills. Daily, James walks 21 miles round trip for his job.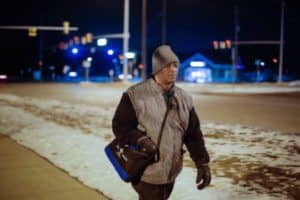 Now, supporters from all over have hit GoFundMe to help raise funds so that he may be able to purchase a new vehicle. Explaining the situation, the campaign's organizer, Evan Leedy wrote, "The sheer time and effort of getting to work has ruled Robertson's life for more than a decade, ever since his car broke down. He didn't replace it because he says, 'I haven't had a chance to save for it.' His job pays $10.55 an hour, well above Michigan's minimum wage of $8.15 an hour but not enough for him ot buy, maintain, and insure a car in Detroit.
"As hard as Robertson's morning commute is, the trip home is even harder. At the end of his 2-10 p.m. shift as an injection molder at Schain Mold's squeaky-clean factory just sound of M-59 and when his co-workers are climbing into their cars, Robertson sets off, on foot – in the dark – for the 23-mile trip to his home off Woodward near Holbrook. None of his co-workers lives anywhere near him, so catching a ride almost never happens.
"Instead, he reverses the 7-mile walk he took earlier that day, a stretch between the factory and a bus stop behind Troy's Somerset Collection shopping mall. 'I keep a rhythm in my head,' he says of his seemingly mechanical-like pace to the mall.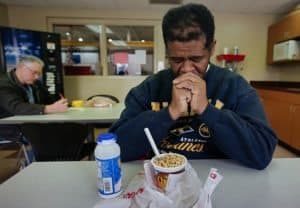 "At Somerset, he catches the last SMART bus of the day, just before 1 a.m. He rides it into Detroit as far it goes, getting off at the State Fairgrounds on Woodward, just south of 8 Mile. By that time, the last inbound Woodward bus has left. So Robertson foots it the rest of the way – about 5 miles – in the cold or rain or the mild summer nights, to the home he shares with his girlfriend."
Robertson told Detroit Free Press that he hopes to purchase a Ford Taurus, which costs around $27,000. "I'm a Ford fan. I remember the Taurus. They look comfortable, nothing fancy. They're simple on the outside, strong on the inside – like me. I mostly stay with American cars – Lincoln, Fords, GM, Dodge."
During a recent meeting, Robertson told Leedy, "I'm always going to be in your debt. I will never forget this."
Since its launch on Sunday (February 1st), Robertson has received nearly $283,000 from over 10,000 backers.
_____________________________________________________

Have a crowdfunding offering you'd like to share? Submit an offering for consideration using our Submit a Tip form and we may share it on our site!