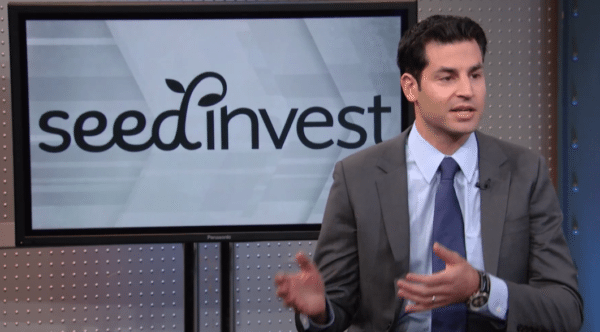 Ryan Feit, co-founder and CEO of SeedInvest, joined Jim Cramer on Mad Money yesterday to pitch his service and explain a company that is raising capital on the equity crowdfunding platform. Cramer gives SeedInvest a pretty strong endorsement noting investors may back highly vetted startups for as little as $2500 bucks.  Cramer notes that SeedInvest now has a network of 25,000 users and 6500 accredited investors.  He highlights the vetting part – which is accurate. Some investment crowdfunding platforms do not apply much vetting so you can not be quite certain as to the viability of the company.  SeedInvest is selective giving investors greater confidence in a young company.
Ryan states that his platform was built "by investors for investors" and assures that you get the same deal as VCs that may be backing the same company. Ryan mentions two companies raising capital on his platform Virtuix and Nightscope.  He states that most of their deals actually come from VCs that want to share part of the round (spread the risk) of a deal they are backing.
A few platform facts:
Total employees: 17
$15 million raised to date
Largest investment: $750,000
Watch the video below.