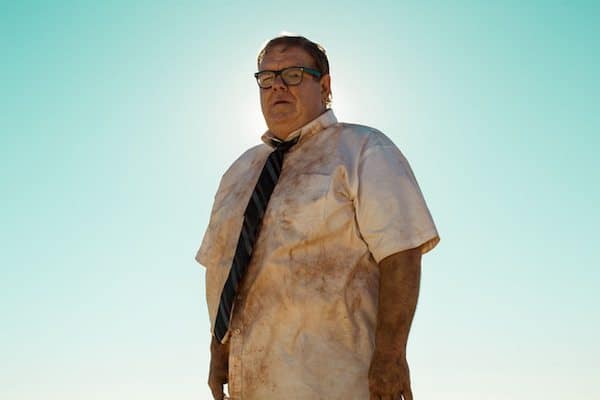 His days on Parks & Recreations may be over, but now actor Jim O'Heir is ready to bring his next project to life. The 53-year-old actor took to Kickstarter earlier this month seeking funds for the upcoming violent comedy, Middle Man.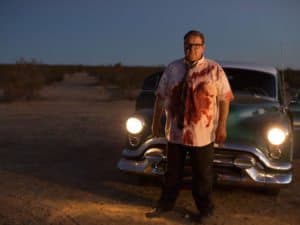 Per its synopsis, Middle Man is a story about Lenny Freeman (played by O'Heir), a straight-laced old-school working stiff accountant with a dream; to become a stand-up comedian. The problem is, he's not very funny. Not even close. When his grandmother passes away, he is left with nothing but debt and her '53 Oldsmobile.
So Lenny hits the road to chase his comedian dreams to Las Vegas and even auditions for The Monte Guy Show's annual "Stand-Up Stand-Off." Along the way, he picked up a mysterious hitchhiker (named Hitch) and his trip quickly goes from bad to worse. When Lenny tries his act out at an open mic night, a dispute with a heckler leaders to murder. Now, with a dead body in his trunk, Lenny and Hitch are on the run.
Director, Ned Crowley stated, "We'll get right to the point because we know you are busy people.  Sure we have Jim O'Heir from the hit show Parks and Rec, and sure we have a great team on board, but it takes a lot to make a feature and we really can't do it without your help.  We're not just talking financial support, either.  We're talking about getting involved, spreading the word, urging us on. The whole 9-yards.

"Middle Man is a labor of love script I wrote specifically for Jim a few years back. I recently pulled it out of mothballs because I finally gave in to that little voice in my head that kept saying, 'What are you waiting for?  You've been writing scripts for years.  Why not go out and shoot one for cryinooutloud?!'

"I started to visualize it.  I started to think about what it would take, and I started talking seriously to Jim about it. He was enjoying great success on Parks and Recreation but it was wrapping up this year and I think Jim was anxious to jump into something to keep him from breaking into tears.

"I also started talking to contacts in small production companies I had about what it would take.  Some said I was crazy.  Some were interested but couldn't commit.  Many were happy to critique the script but that was about it."
Those who back the project will receive various rewards including, a downloadable screenplay; downloadable storyboard; downloadable copy of the film; Middle Man collectable pin; t-shirts; signed photos.
Since its launch, Middle Man's campaign has raised nearly $75,000 from over 280 backers. It is set to close on March 12th.
______________________________________________________
Have a crowdfunding offering you'd like to share? Submit an offering for consideration using our Submit a Tip form and we may share it on our site!