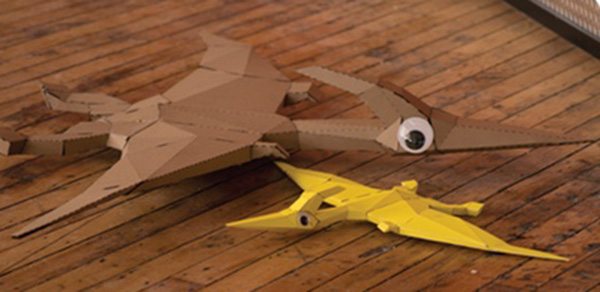 Last spring, Lehigh Valley, PA artist, Lisa Glover, hit Kickstarter for her project, KitRex. She used custom-made steel die to cut the complex dinosaur shapes out of Bristol board to make the kits. Originally setting out to raise $8,000, Glover and her dinos took home over $100,000 thanks to nearly 3,000.
Glover previously stated that the KitRex ideas began during a homework assignment:
"I was asked to research a manufacturing process and demonstrate it in a unique way. I decided to research Industrial Origami, and over the course of 50 hours I designed, cut, and built a wearable 15-ft long velociraptor out of cardboard. I took him to a costume ball, and when I tromped into the room, literally everyone stopped to stare. He was the star of the evening, and everyone wanted one. I knew I had to do something."

"When I made my giant velociraptor, I had no idea that other people would want one too. But most people don't have room for a 15ft long monster clambering around in their kitchen, so I thought I would try for something smaller. Armed with that knowledge and my passion for folding paper, I began developing something I call the KitRex – the miniature version of the giant dinosaur."
Now, nearly one year later, Glover has returned to the crowdfunding giant with a new campaign, KitRex Pterodactyl: The 3D paper dino puzzle. According to its description, the kit is a flat-packed dinosaur that you construct by folding a tabbing together die-cut piece of high-quality paperboard. Once assembled the Pterodactyl can be decorated, displayed and even flown.
Explaining the "evolution of the project, Glover shared:
"The first KitRex Kit was a success, but there was definitely room for improvement! I was able to manufacture the dinos and ship them out to nearly 3,000 people worldwide, but my solution for constructing the kits-glue dots- turned out to be imperfect if they weren't pressed down firmly enough, or were exposed to certain climates, they would come apart, making for a very sad-looking dino.

"Even though the most value, I believe, is in the experience of building the kit, I couldn't stand to have a product that didn't live up to my expectations! So, I've spend the past few months working on various types of simple, locking tabs, creating my new dino – the pterodactyl – in such a way that it doesn't require any adhesives, while remaining structurally stable."
KitRex Pterodactyl comes in six colors – red, orange, yellow, green blue and purple. Once the project exceeds its goal, more colors will be released. Each Pterodactyl comes in a folder that is approximately 9"x14" and, once its built, has over a 3' wing span. It will be printed, die-cut and come with an instructional booklet.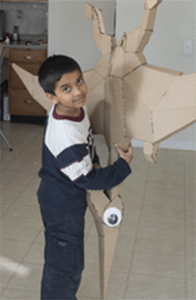 The other kit, Pteranodon, is larger and comes in one color, brown, and is made out of E-flute cardboard. The package is approximately 20" x 30" and has a 7' wing span. It will be cut out on the Makerspace's lasercutter.

Starting at $20, backers can receive the Pterodactyl. Those who wish to receive the Pteranodon must give $50 towards the campaign. For both kits, the cost will be $70. Glover received that the kits will be shipping as early as May 2015.

Within the first hours on Kickstarter, KitRex's Pterodactyl has raised over $9,600. It is set to close on April 10th.

________________________________________________________

Have a crowdfunding offering you'd like to share? Submit an offering for consideration using our Submit a Tip form and we may share it on our site!

Sponsored Links by DQ Promote