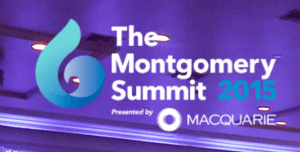 Realty Mogul, one of the leading pioneers in online peer-to-peer real estate investing, will be only real estate-related business chosen to present at the West Coast's premier conference for technology investors. The Montgomery Summit, presented by Macquarie Capital, selected Los Angeles-based Realty Mogul from more than 2,000 nominated businesses. The final roster of presenters features 140 of the world's most interesting and dynamic young companies. Past presenters include Facebook, Splunk, Marketo, Lynda.com, Oculus VR, Dropbox and ExactTarget among others.
Realty Mogul recently announced that it has reached more than $50 million invested since its founding.  Each investment was made on the platform from more than 15,000 accredited and institutional investors, providing capital to fund approximately 180 properties valued at more than $360 million in over 30 states.
 "We're truly honored to be included in such a prestigious group and for the chance to appear before this elite audience of more than 1,000 senior-level investors, entrepreneurs and top executives" said Jilliene Helman, Realty Mogul's CEO. (Helman was recently named to Forbes Magazine's "30 Under 30" list.) "We believe Realty Mogul was chosen because of our mission to drive profound change in the real estate market, enabling individuals and institutions to participate in investment opportunities to which they may not have previously had access."
"We saw many extraordinary companies this year innovating across a broad spectrum of technologies," said James Montgomery, founder of The Montgomery Summit.  "Those selected join a dynamic group that have gone on to raise capital and achieve significant success after presenting at our Summit."

In addition to presentations from top private growth company CEOs, industry leaders and top innovators, speakers at this year's conference include Los Angeles Mayor Eric Garcetti; Rich Karlgaard, former publisher of Forbes magazine; Tim Draper, venture capital investor and founder of Draper Fisher Jurvetson and Chief Visual Officer of the University of Southern California Paul Debevec.  Previously known as The Montgomery Technology Conference, the Summit has for more than a decade provided unparalleled opportunities to meet a diverse blend of technological visionaries and innovators from all over the world.